We have about 6 weeks left of school and the kids are ready for summer. I am too. I love the warm weather and sleeping in late. Here are some signs that summer is close in my house.
10 signs its the end of the school year
1. Folders are torn up.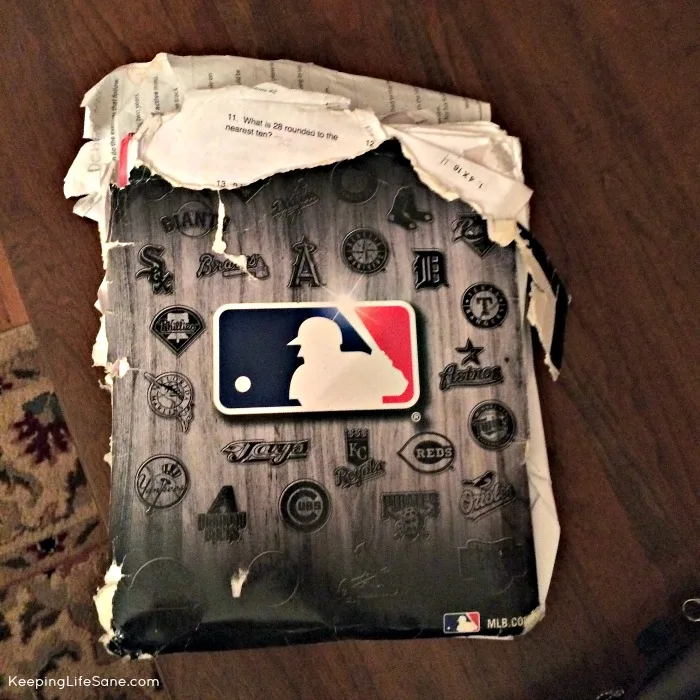 2. Eating the school lunch everyday. I like the kids to eat a packed lunch from home. They're usually starving by the time they get home when they eat the school lunch. We are all having a hard time getting the lunch boxes packed up.
3. Holes in all the jeans. Yes, this is what almost every pair of pants my boys own looks like. I'm planning a sewing project with them now.
4. Hair is a mess. I'm not even arguing about this anymore. After I took this picture though, he decided to fix it! That means he put a little water on it.

5. Waking up early to do homework. We are so busy sometimes it's just easier to do homework in the mornings. I'd rather do it at then than late at night when they're tired.
6. Didn't you wear that yesterday? Sometimes I notice that my kids are coming down in the same socks or pants that they wore the day before. I guess they just didn't make it in the hamper. They are wanting to wear their most comfortable clothes.
7. You can just stop reading at 10 minutes today instead of your 20. We are so busy going to games and practices I feel like I'm slacking a little making them read.
8. Pencil Erasers! It's a miracle if we find an eraser in this house anymore. When someone finds one, they guard it with their life!
9. Backpacks area a mess. Not even the teachers are getting on to them for this anymore!
10. I'll drive you to school today. We are waking up later and later and they are having trouble making the bus. I've just been driving them lately because it gives us an extra 30-45 minutes.
You may also like these posts!