It's easy to get into a lunch rut and you may need some new lunch ideas. Here's a GREAT list of EASY summer lunches for kids.
This post contains affiliate links and I will be compensated if you make a purchase after clicking on my links. As an Amazon Associate, I earn from qualifying purchases. Check out my privacy policy for more info.
My kids eat a huge breakfast. I usually make eggs, sausage, bacon and oatmeal, that sort of thing. Here's a list of a bunch or breakfast foods they like.
Eating lunch is a little later, around 1:30. I make them sit down and eat so they aren't snacking all day. I want them to eat a good dinner. Who wants all that dinner meal planning to go to waste!
Easy Summer Lunches For Kids
We get tired of sandwiches pretty quickly, so I like to make other things for the main item that are kid friendly (and older kids like them too). I usually serve fruit and maybe another side like yogurt, a cheese stick, peppers or carrots.
Scroll down to get these summer lunch ideas. You'll be glad you did! Sometimes you just need a little reminder to get you motivated. You won't find chicken salad on this list!
Here are some cute lunch accessories that I have and love.
Easy Kid Lunches for Summer
Quesadillas
Just throw whatever you have in it. My kids love peppers!
I know it says breakfast, but these are so great for lunch too! Make sure to make a double batch because these will go quick! It's a super easy meal and something kids will love.
This is a summer staple at our house, perfect for a picnic at the pool. The best part about making this salad is that I can use up any produce I have in my refrigerator.
These are to die for! When I'm making dinner, I throw a couple chicken breasts to cook at the same time to shred later. You can make these as spicy as you want them.
Avocados are so healthy for you. I'm allergic to eggs and this is a great lunch for summer.
Nachos
Another super easy meal and everyone can make their own and add the toppings like peppers, olives, shredded chicken, queso, green onions and cilantro. It's the perfect dish when cooking with kids so you should let them make this meal.
Little Caesars
You can't beat a $5 pizza. It's a great deal and easy to order on the Little Casears app when you need a break and don't want to turn the oven on when it's a hot summer day.
Homemade Lunchables
This is easy to do and so much cheaper than buying the premade ones from the grocery store. You just need crackers, cheese and pepperoni.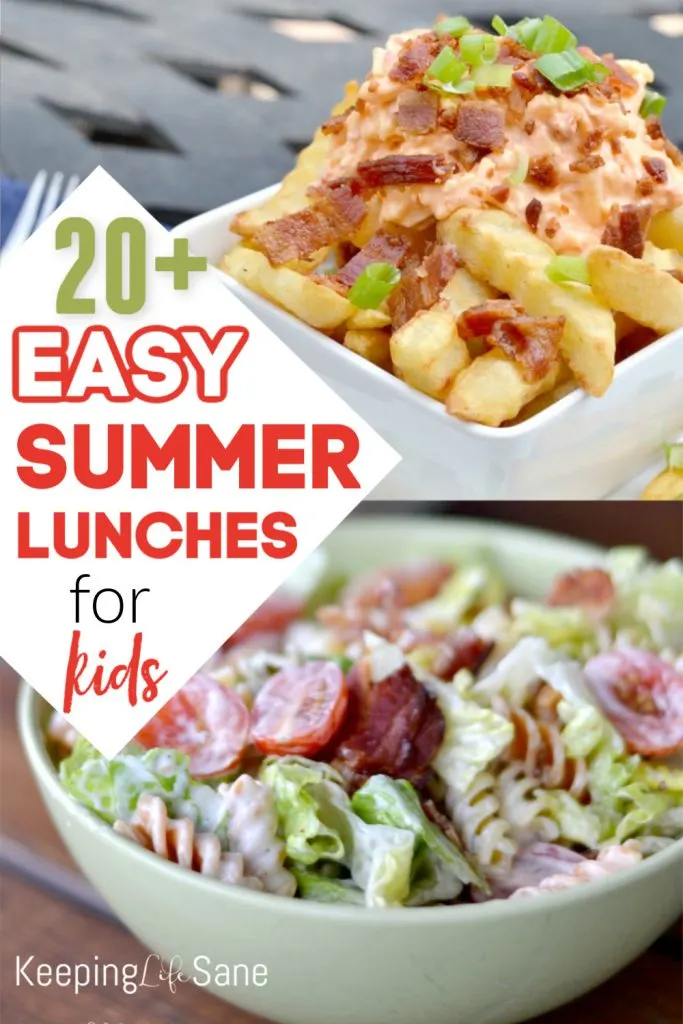 Pigs in a Blanket
Who doesn't love these! If you need a reminder on how to make them, here's a link to the Pillsbury website.
Homemade pizza
Use an English muffin, pizza sauce, pepperoni, and shredded cheese and bake in the oven on 350F.
I normally would only make these around the holidays, but had some sausage I needed to use so made them on day. OMG! My kids ate them up like crazy. They're perfect for lunch and full of protein, just serve it up with some fresh fruit.
Leftovers
I love leftovers for lunch. Make extra to serve the next day.
These are the best ever! I had never used rice paper before and now it's one of my favorite to use. It's filled with fresh veggies.
I try and get some protein for my kids at every meal. When my kids aren't feeling any meat, this is the recipe I go to. It's super simple and yummy with peanut butter.
This is a fun lunch with pasta, mozerella and pesto! YUM!
My kids don't like store bought corn dogs. They're weird! These are really good!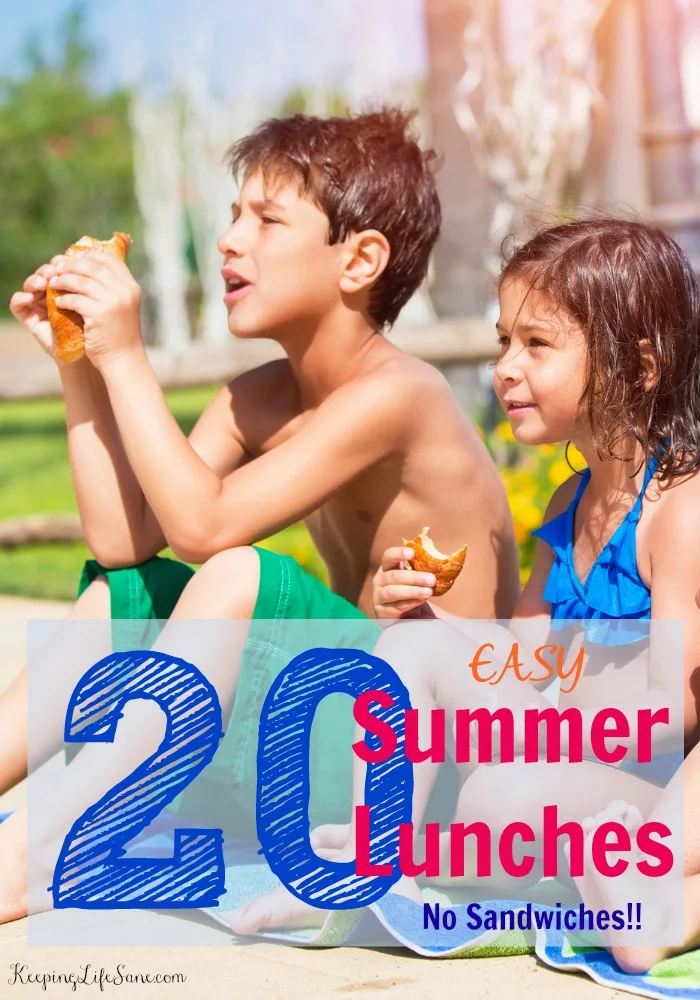 Everyone likes fries and pimento cheese topping is the BEST!
Bagel with Cream Cheese and Lox
Is your child adventurious? My daughter loves lox and this is one of her favorites. Don't forget to add the capers.
Who doesn't like mac and cheese? These are great with a sweet potato side, just throw that in the microwave for a few minutes.
My kids love parfaits and they're perfect anytime of day. The best part is that you can really add any yogurt and fruit you have. This recipe from my friend, Chellie, is the best. It's hearty and keeps them full.
Last, but not least, is this VERY versatile dish. You can have it breakfast, lunch or dinner. I've actually thrown all the ingredients in my air fryer and it turned out delicious and took no time at all.
This tuna salad sandwich recipe is not only easy but it's a kid pleaser that can be served as a sandwich, or with crackers!
These Tuna and Potato Patties are simple to prepare, ideal for make in advance and can be served hot or cold.
This blackberry ricotta pizza is fresh, cheesy, but not too sweet. If you enjoy ricotta pizza, this twist with blackberries will surprise your senses!
These are like fun ham sandwiches, all rollup up in a fun size. Perfect for kids lunches.
This chicken wrap is made with just three ingredients and it takes just a few minutes to make.
Don't let the ease of this zucchini slice fool you. It's a perfect little recipe to keep up your sleeve and is delicious hot or cold.
If you're looking for the world's brightest and most flavorful pasta salad – you've found it!
Easy Turkey Pinwheels filled with cream cheese, deli turkey, cheddar cheese, and dried cranberries are the perfect appetizer or make-ahead lunch.
If you love Indian food you're going to love this Instant Pot tomato rice. It's an easy one-pot dish loaded with flavor and aroma.
Chicken kebabs are tasty and loved by everyone. The secret sauce of this recipe is the delicious marinade that will have your kids coming back for more.
Indian homestyle, simple, a few ingredients and plant based! Both stovetop and instant pot instructions.
This nutrient-dense pasta is smothered in a creamy tahini sauce. It's easy to make and delicious.
A delicious cross between a creamy pasta salad and a chicken salad. Super easy to throw together and a great way to use up leftover chicken.