This shop has been compensated by Collective Bias, Inc. and its advertiser. All opinions are mine alone. #YourSeasonIsServed #CollectiveBias
Don't we have enough stress during the holidays? My family travels for both Thanksgiving and Christmas, shopping, parties, cooking, and my kids are still doing basketball, wrestling, and pitching lessons! It can a challenge to not get overwhelmed. When I'm cooking a big meal for family and friends I'm usually so tired from cooking the meal, the last thing I want to do is spend hours working on dessert. I usually do a couple because the kids NEVER want the same thing that the adults do! 🙂 I found the perfect dessert, frozen hot chocolate. It takes no time at all and it looks really fancy, which they love.
Frozen Hot Chocolate
Items you'll need
Directions
This is the easiest dessert for kids that are breathing down your neck and want it 5 minutes ago. You need to put your Swiss Miss Hot chocolate packet in your blender (I have an individual attachment which is perfect for this). You need to put it half the milk the instructions call for. I did 2 packets, so I put in 3/4 cup of milk. Next, I added about 8-12 pieces of ice. This is really up to you and how thick you want it. I like mine thick. Blend until the ice is crushed, just a few seconds.
Top with some yummy Reddi-wip®. It's made with real cream so none of that fake stuff. You probably already have some in your refridgerator! 🙂
For the adults you should try getting a Marie Callender's® pie. They are a life saver when you are exhausted and just want to spend time with your friends and family. It can be very time consuming to make an apple pie with making the crust (which I can never get completely right) and slicing up the apples. I love how convenient it is to be able to pull it out of the freezer and throw it in the oven. Doesn't everyone love the smell of a pie baking? Jut serve it up with a HUGE dollop of Reddi-wip®! Below is the Dutch Apple Pie.
Find Marie Callender's® Dessert Pies and Reddi-wip® products in a Kroger or Kroger banner store near you. Kroger banners include Dillons, King Soopers, Frys, Fred Meyer, Ralphs, Food 4 Less, QFC, Smiths, and Harris Teeter. Find a store near you.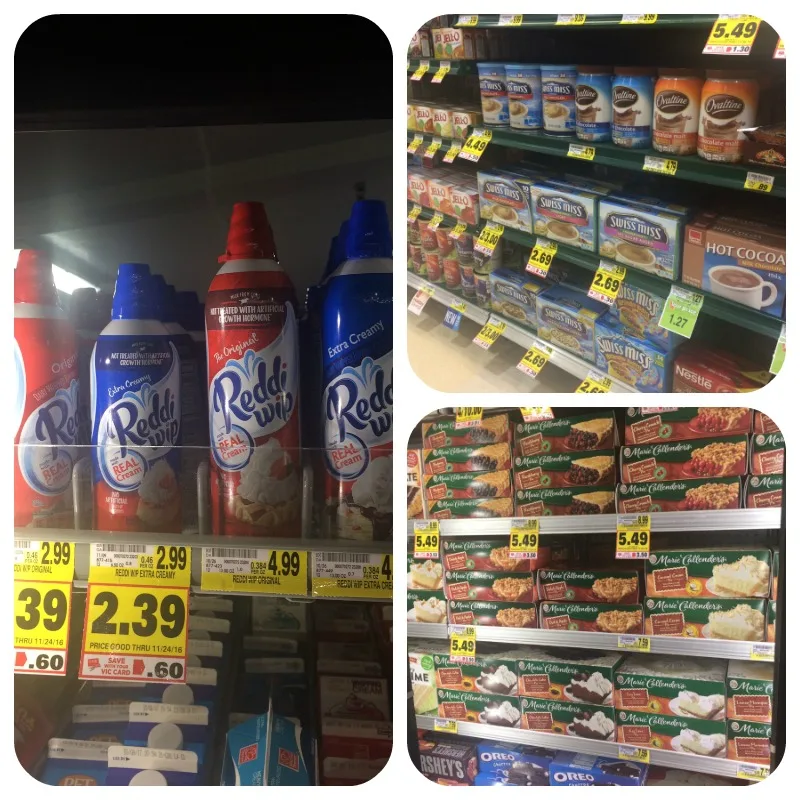 There is a great special going on starting today at Harris Teeter (where I bought all these items). Receive a FREE Reddi-wip® (6.5 oz) when you buy one Marie Callender's® Fruit or Cream Pie (11/16-11/24). (Discount automatically applied at register with qualifying purchase. Must use shopper card with purchase. Participating locations only. Offer expires 11/24/16. See store for additional details. Limit 1 per transaction) These are some great desserts and definitely take advantage of FREE Reddi-wip®.