This post contains affiliate links.
My laundry room isn't really a room, I call in my laundry closet. There isn't much room and I only have one shelf for storage. With the laundry basket in there, I can't even open my dryer door. It's really frustrating, especially when I see these huge laundry rooms with all these great organizers and drying racks. I've thought about additional shelving and cabinets, but I found a way that works for now.
I bought these great bins from Ikea. I found some similar on Amazon, but they are a little smaller. Here are some really cute rattan ones too. I wanted some that were bigger because I knew I needed more space to store my items. I wanted some that you couldn't see through to keep it looking nicer. I bought 4 different colors so I so I could put certain things in different colors.
White I keep cleaning supplies and rags in this one. White=clean. It's easy to remember. I may throw some extra toilet paper in there too. I keep most of my cleaners under the sink, but I also throw any surplus cleaners there too. If you look close, you'll see a bag of Easter candy I hid!! 🙂
Blue We have a neighborhood pool and I just switched out our football equipment for our swimsuits. After I do wash I can throw everyone's swimsuits up there and now we know where they are. It can take a long time to find bathing suits in a kids room. We don't even take them upstairs.
Black I keep all of our baseball uniforms, socks, practice pants, and sliding pants in there. We have baseball, probably 4 times a week, between my 2 boys and it's nice that I can just pull it down and get what they need. If they had to take care of this themselves, we would never find the socks and belts. And, of course, they would choose the worst of the stained pants.
Yellow I keep baseball hats in here. We have a huge collection and everyone (including my husband) has different hats for different "occassions". I can pull it down and they can choose. When I find one in the house, I can just throw it up when I'm straightening up the house for the day.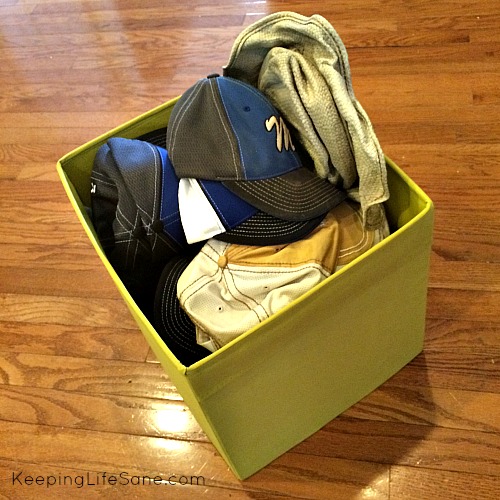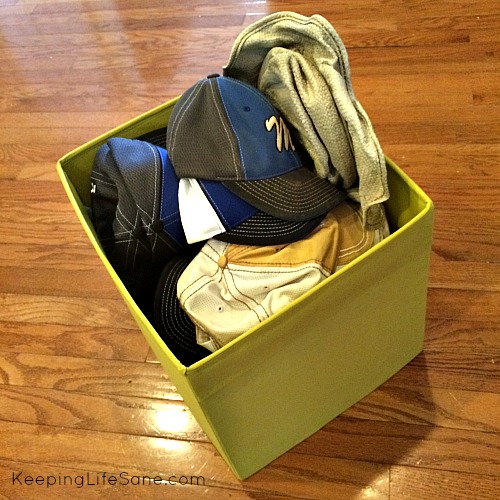 I keep all the washing supplies out and ready to use so I can grab them fast.
That's how I organzie my laundry room. There are endless possibilities for the baskets. You could keep all your cleaning supplies, pet supplies, running clothes, paper products, and beach towels. I love the way it doesn't look cluttered and everything has it's place.
Follow me on Facebook!
You may also like this post.