Here's a GREAT pet sitter checklist with a FREE printable to make things easier for you, your pet sitter AND your pet!
This shop has been compensated by Collective Bias, Inc. and its advertiser. All opinions are mine alone. #FeedDogsPurina #CollectiveBias
It can be very hard to leave a pet when you have to go away. How many of you have a pet sitter? I usually send my dog to the boarders when we go away for a week-long vacation, but for a weekend or night away I usually just get a dog sitter to come to the house. It's just easier.
I don't have to make a reservation, drive her over there and then go back and pick her up. Zoe is more comfortable staying at home. She's almost thirteen years old and has a hard time getting around. I created this GREAT pet sitter checklist with a free printable to make things easier on you, your pet AND the pet sitter.
Pet Sitting Checklist with FREE Printable
Update: My daughter is 11 now and has been pet sitting for a couple of our neighbors. This is a great way for tweens to earn extra money. If you are looking for pet care, this age kid is a great place to start. She is always on top of her responsibilities and goes over to play with the animals because she has more time. Dog sitting is one of her favorite things to do.
I wrote this up when I was using a dog sitter but any pet owners could use it. We went to the beach for two weeks and this came in real handy when we had to leave our hamster at a friend's house. I love that there was plenty of room to leave all the instructions and tips to care for her. Make sure print out one for all your pets.
Have a backup!
Most of the time a backup won't be needed, but you never know what's going to happen. There could be a snowstorm or a car accident. You could use a neighbor or family member to care for your pet.
Leave a light on.
Leave a small hall light or kitchen light on so when your pet sitter comes in, they'll know where to go. Remember, this isn't their house and they aren't familiar with it.
Leave cleaning supplies out.
My dog never has accidents when we're at home, but EVERY TIME we leave her with a dog sitter she has at least one! You don't want your pet sitter rummaging through your cabinets and closets trying to find an old rag and stain remover.
Leave all pet supplies out.
Your pet sitter needs to be able to find all your pet supplies. Put them where your sitter can find and see them. This includes medicine, treats, leash and favorite toys.
Have everything your pet will need.
You don't want the pet sitter running out for dog food because you didn't have enough!
Leave your contact information
Most of the time your sitter will have your contact info. Just make sure they have a way to contact you in case of an emergency. Leave your cell phone numbers so your sitter can get in touch with you easily via text or call. You could even leave a neighbors number too.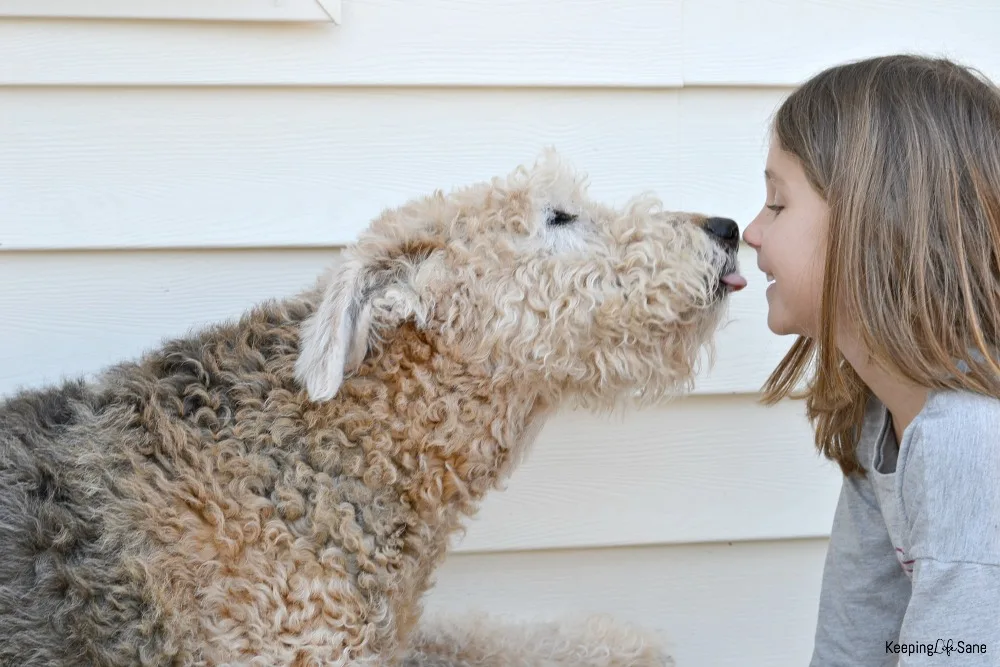 We use BENEFUL® Healthy Weight for Zoe. She's pretty old now, 13 years, and is having a hard time standing up because her joints and arthritis is so bad. Since she has a hard time walking, she couldn't exercise and was about 20lbs overweight.
We thought if she lost some weight, she would be able to get around better and she's been eating it ever since. It has 10% fewer calories than the original and is made with REAL chicken, grains and vegetables. Update: Zoe died a couple of months after I wrote this. Scroll down below and see our new puppy!
Print out this pet sitter information sheet
Make sure you save it now so when it's time for vacation or your weekend getaway you'll have it handy. It has space for all the important information you'll need to leave your pet with a sitter. It's not a long list but has some important information they need to know.
The last section is perfect for notes or special pet sitter instructions are great for bedtime routines, dog walking instructions, or little tricks to get your pet to behave.
Click here or on the image below. It will take you to Dropbox so you can download the image of the printable pet sitter template to your computer to save or print out. I have my printables stored there so I can give out a higher quality image without slowing my website down. Please let me know if you have any issues and I'll get you going!
You may also like this new puppy checklist I recently wrote because we got a new puppy!! Man, I wish I had this before we got him. I made WAY too many trips to the store of things I forgot. My kids are trying to talk me into getting ANOTHER puppy. I don't think I can handle two dogs!
Update: Several people have messaged me asking about the dog breed we got. Rocky is an airedale terrier, the same as our previous dog. I'm allergic to dog fur and terriers have hair and don't shed.