Compensation was provided by Under the Weather® Pods via Momtrends. The opinions expressed herein are those of the author and are not indicative of the opinions of Under the Weather® Pods or Momtrends.
Can you believe spring sports are already starting? We just finished basketball last Tuesday and soccer started two days later. I didn't even get a break!
I'm busy running my three kids to all their activities. Our spring sports include- soccer, lacrosse, and baseball and I love this time of year. We're busy, but I'm glad to be back outside, when the weather is nice. You are going to love one of these things on the list when it's not so nice. Actually, you won't want to miss a game.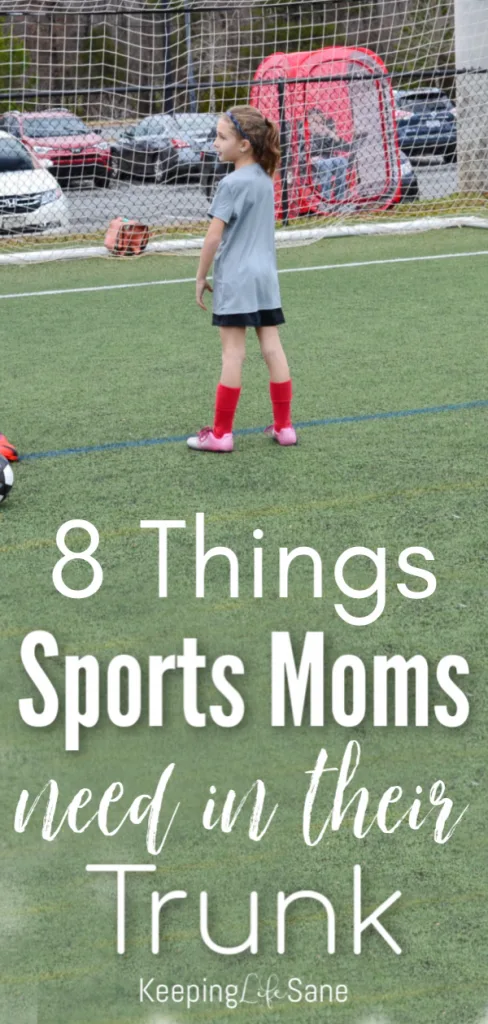 My kids are 8, 11, and 13 and I've had lots of experience going to games and tournaments and being gone all day. I've narrowed my list down of the most important things you need to have in your trunk.
8 Things All Sports Moms Need in Their Trunk
Extra shoes for everyone
You should know what I mean on this one. If there isn't rain there's always some creek or mud puddle somewhere near the fields you are at. Some times a foot slips and goes in. Once I had a shoe get stuck in the mud and lost! We were an hour from home and one of my kids had 1 shoe! Dollar store flip flops are perfect for this- just a pair of backup shoes.
Water
You may pack a cooler with water regularly, but I'm telling, pack EXTRA! I usually keep a case in the back for emergencies. If you don't need it, someone else will.
Food
I don't have to say anything about this. Food makes everyone happy!
Itch cream
Some time, someone will get stung by something. In my case, it's usually ants. These creams are the best. It stops the stinging and itching so you can enjoy your game. I once had to run out to get itch spray and missed half the game because a kid got stung by red ants. Now, I just keep it in my trunk.
Extra chair
Someone will always forget a chair and it's great to have an extra. It's also great when your chair breaks! You know what I'm talking about. Those outside chairs will break and with no warning!
Jackets
I know in the middle of summer this may not be the priority, but in the spring and fall, it's a must. You know how games are behind or a storm rolls in. You may plan on being off the field at 3 in the afternoon and end up staying until eight or nine. When that sun goes down, it can get cold and fast!
Sunscreen
I know this seems crazy that I have to put this, but every game there is someone without sunscreen. Just don't put it on when you leave the house. You and the kids sweat- you need to reapply throughout the day.
I know you have all seen these somewhere online or even at the field and think to yourself, "That is the best thing ever!" I'm here to tell you it is! I live in NC and it has been a monsoon down here for 6 months. I know when the weather is bad it's hard to get motivated to go watch these games and practices. You'll WANT to go using this.
My daughter only had 5 soccer games in the fall because of so much cancellations. This season isn't starting out much better. Games have already been pushed back a week and it's still February. This could be a long season of cancellations and reschedules.
Anyway…Under the Weather Pods are perfect for outdoor sports and since I have 3 kids and all of them play an outdoor sports, this will come in very handy. They are super lightweight and simple to pop-up. The best part is that it's rain and wind resistant. Who wants to sit out on a cold March morning in the rainy wind? Not me and now there is no excuse to stay home.
I have an XLPod with zippered doors on 3 sides. There's nothing to put together or extra pieces. You literally take it out of the carrying case and it pops up in seconds. You can even connect several together, which my daughter would love to do with her friends.
Here's my 13 year old demonstrating and I basically had to kick him out. I think I know what I'm getting him for his birthday now.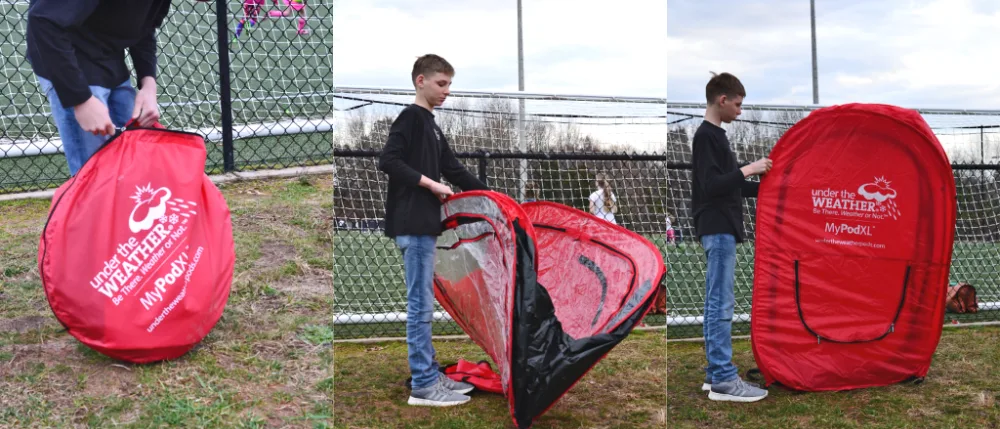 I was a little nervous about getting the pod back in the carrying case, but I had no problem at all folding it back up, getting it in and zippered up and all in one try. The case is really nice with straps to carry on your back so your hands are free to carry everything else you need.
Head over to Under the Weather Pods website. This is a great deal so make sure to share with the other moms on your team.
You may also like this post.