This post contains affiliate links.
I've been getting Stitch Fix for awhile now and really like it. You can read some of my other reviews.
If you're not familiar with Stitch Fix, I'll give you a quick rundown. When you sign up for Stitch Fix you fill out a questionnaire on your style. They ask you all kinds of questions so they'll have an idea what you like and what sizes you are. They ask you if you would like to try any different styles. They show different pictures of clothes and you mark if you love them, like them, so-so, not really, and NO! With the information they gather they send you a box of 5 items your stylist thinks you will like. You can try them on at home and decide. You get on your computer and "check-out" with the items you want to keep. What you don't want, you send back in a bag they provide for you. You can choose how often you get a "Fix". You can even write your stylist and give them ideas for what you want.
I

never

shop for jewelry. It's something I usually don't buy, so I've enjoyed getting and few pieces from Stitch Fix just to have. This is the 3rd and I've liked having some to dress up a few outfits. I always get overwhelmed at the jewelry counter because there is so much to choose from. You can choose 3 different lengths for this necklace to make it more versatile.
Serra Triple Triange Tassel Necklace-$38
Verdict- Keep
2. I love sweaters and layers so I was excited about this. Once I put it on, I was a little confused though. It fits a little different than a sweater. It's pretty baggie. The style sheet showed it with a solid color under it so I tried it on with a few tops I already owned. I can easily dress up a simple tank top with this and then add the necklace! 🙂
Torrin Poncho Cardigan- $54
Verdict- Keep
3. This is a shirt I normally wouldn't have picked out myself. It seemed a little "fancy". I tried it on and looked at the style card they sent in the box and I think I can make it work. They had it with jeans or white pants. I can do that.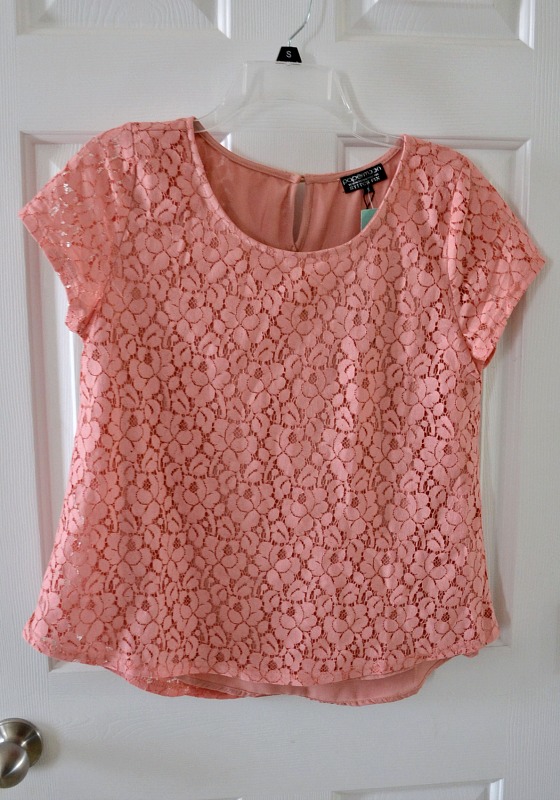 Hewson Lace Top- $54
Verdict- Keep
4. When I pulled this out of the box I was a little disappointed. I can NEVER wear these wrap tops. I have a very small chest and they just don't fit right and are VERY baggy on me. It was so different when I tried this one on. I loved it and it fit perfect. The first thing I thought was, I wish I had something like this when I was breastfeeding. It would have been great! It crosses high up, but you can't tell from the picture.
Benni Crossfront Knit Top- $54
Verdict- Keep
5. I love jeans so I was excited when I saw these in my box. I tried them on and they were a little big in the waist, but I just put on a belt and that solved the problem. I wore them immediately to a weekend of lacrosse and soccer games.
Rogers Distressed Boyfriend Jean- $78
Verdict- Keep
When I got the email that my Stitch Fix was on the way, I had told myself that I wasn't going to spend a lot and that I didn't need much. I was wrong and ended up getting everything! The merchandise total was $272, but then I got my styling fee credit of $20 and then a $68 credit for buying all 5 items. That brought my total down to $184. They are now offering shoes and I got an email to update my profile with my shoe size. I'm headed over to do that right now!
This is not a sponsored post. I decided to purchase the Stitch Fix box on my own, but it does contain an affiliate link that gives me a small credit towards my next box.