The best eggless chocolate mug cake is right here! You found it! It's super easy and cooks in 60 seconds. It satisfies any chocolate craving!
This post contains affiliate links and I will be compensated if you make a purchase after clicking on my links. As an Amazon Associate, I earn from qualifying purchases. Check out my privacy policy for more info.
My 9 year old daughter loves cooking and loves to help out in the kitchen and will try anything. She is definitely our best eater in the house!
She has an Easy Bake Oven and her own Easy Bake cookbook. (This is the one we have.) However, she's graduated from that and is now on microwave cooking and other easy recipes. She's really into cooking eggs in a mug right now. She adds lunch meat and cheese to them and calls them hotel eggs.
Easy Eggless Chocolate Mug Cake
So, when I asked her what I could put up on the blog, she suggested a chocolate mug cake recipe, which is fine by me. I love sweets and this is a great recipe!
She loves these mug cake recipes, brownies and cookies. She finds all different kinds of easy recipes on YouTube and many I can't eat (because I'm allergic to eggs), but she makes them for my husband. She's on fall break all week so there may be more than one of these recipes later if she's on a roll. 🙂
Since she's the expert on mug cakes so I decided to help her today and we came up with an eggless mug cake recipe that worked. We made several ones and I made her pick our best recipe. She gave this one 5 stars!
This recipe calls for all the basic dry ingredients, such as flour, sugar, cocoa powder, and baking powder. We're using vegetable oil to replace the egg that's normally in a cake.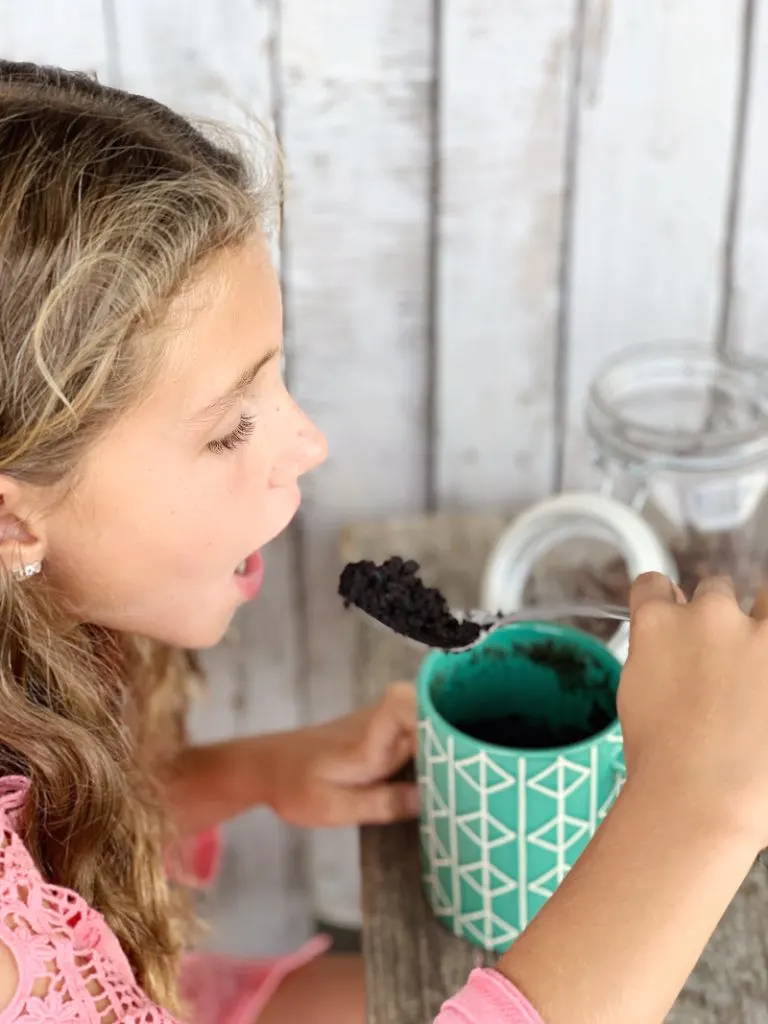 I helped with writing the recipe, but she did all the work! This microwave chocolate cake recipe is super simple and you will love it when you need that sweet chocolate fix in just a couple of minutes.
What is a mug cake?
A mug cake is exactly what it sounds like. You are making a cake in a mug! The benefit of this is that it's a single serving. It's quick, easy, doesn't make a huge mess AND you can satisfy your sweet tooth. Most cakes will take you at least an hour from start to finish so this is a great alternative.
Kitchen tools to make mug cake with no eggs
I've been trying to add in a section to my recipes of the kitchen equipment I use to make the recipe and there is nothing for me to add to this one! We basically used a bowl, fork and mug. That makes this recipe very easy and not a lot of cleanup.
If you look at the picture closely, I have a glass container with attached lid I keep my chocolate chips in. I love these containers and use it to keep my brown sugar in because it's air tight and my brown sugar stays soft. I also keep craisins in one because I add those to my oatmeal in the morning. They are great for all kinds of ingredients. You can leave them out on your counter because they look so nice or a great product for organizing your pantry.
Ingredients for chocolate cake in a mug
All purpose flour
Cocoa powder- You'll want to use the unsweetened for this recipe.
Sugar
Baking powder- NOT baking soda. Do not make this mistake.
Milk
Vegetable oil- Update: I had an email from a reader about substituting coconut oil in this recipe. You normally can use coconut oil in place of vegetable oil, but recommend using refined coconut oil because it's more processed and removes the coconut flavor. I have NOT tested this!
Chocolate chips- I prefer milk chocolate chips in my recipes, but you can use semisweet if that's what you have in your pantry. You can use regular sized or mini chocolate chips. Don't forget to add these to your shopping list.
This recipe doesn't call for vanilla extract because I like to keep my ingredient list short and sweet, but you are welcome to add a LITTLE splash into your cake batter. I personally love vanilla and even make my own. You can get the recipe for vanilla extract here.
How to make eggless chocolate microwave cake
Step 1
Add all ingredients to a small bowl and stir well. You can do this with a fork. You could probably mix all your ingredients in a larger mug, but I like to use a bowl to make sure all the ingredients are mixed well.
Step 2
Spray the mug with a nonstick cooking spray and add cake batter to the mug.
Step 3
Cook your mug cake on high for 60 seconds. Insert toothpick, If it comes out clean, it's done. Let it cool for at least one minute. Now you can add your ice cream or whipped cream.
Tip #1
Make sure you use a microwave safe mug!
Tip #2
You can make this cake different every time by putting on different toppings, such as a scoop of vanilla ice cream on top, whipped cream, peanut butter and even more chocolate chips.
Tip #3
All microwaves are different and require different cook times. This cake was microwaved on high in a 1000W oven. You may need to adjust your time accordingly.
Can I bake this no egg mug cake?
No. This recipe is designed to make in the microwave and I suggest following the directions and do NOT bake this in the oven. If you are needing a cake to bake, I have a few great recipes. These vanilla cupcakes are delicious!
Eggless Dessert Resources
If you're like me. then you're probably on the lookout for more recipes that are egg free. I hate finding a recipe and clicking on it and it has an egg in it!
I started an eggless recipe board on my personal Pinterest page and then realized that I should probably link it to my blog. It's great finding recipes that are egg free and when I need one I can go look and eat everything in it.
I have an EGGLESS Recipe board on Pinterest and there are a ton of great recipes. You can follow it here. I pin on it every week because I'm ALWAYS on the lookout for new recipes.
I also have an EGG FREE RECIPE Facebook page that I just started, so there is only one follower right now, me! (Update: It's over 1800 now!!) Go follow over there and I'll post any good recipes I find!
More Eggless Dessert Recipes
Here are more delicious desserts. Check out some of my popular recipes.
Reminder: If you make one of my recipes, it would be GREAT if you could leave any feedback in the comment section and rate it for other readers who are looking for something new to make.
The BEST Eggless Chocolate Mug Cake
The best eggless chocolate mug cake is right here! You found it! It's super easy and cooks in 60 seconds. It satisfies any sweet tooth!
Ingredients
1/4

cup

flour

1 1/2

tablespoons

unsweetened cocoa powder

2 1/2

tablespoons

sugar

1/8

teaspoon

baking powder

1/4

cup

milk

1 1/2

tablespoons

vegetable oil

1

tablespoon

chocolate chips
Instructions
Add all ingredients to a bowl and stir well.

Spray mug with a nonstick spray.

Add batter to mug and cook on high for 60 seconds.

Insert toothpick, If it comes out clean, it's done.
Notes
Add extra chocolate chips to the top when it comes out of the microwave. They get melty and gooey!
HINT: All microwaves are different and require different cooking times. This was cooked in a 1000W oven. You may need to adjust your time accordingly.