Eggless Vanilla Cupcakes
These are the perfect cupcakes for any party or dessert. I love that you can add any flavor frosting for your special day. You would never believe that these don't have any eggs in them. They are so light and fluffy. Scroll down to get the eggless vanilla cupcake recipe below.
I've been allergic to eggs my entire life so I've gone without or changed up recipes. I started posting them on here so I'm starting to get some cakes and cookies and other fun desserts that are perfect for other allergic people or if you're simply out of eggs.
Can you believe these don't have eggs? They look really good and are so fluffy and moist. I love it because you can add any frosting you want and any flavor, homemade or store bought. You know you have to take shortcuts sometimes!
The BEST eggless vanilla cupcakes EVER!
Here are a few things that I use to make these cupcakes that I can't live without.
Silicone cupcake liners– My kids love these and you can just throw them in the dishwasher. This is a 12 pack so make sure to purchase two!
Cooling racks– These are my very favorite and the main reason is because they don't take up much space in my cabinet.
KitchenAid hand mixer– I received this as a gift for my wedding over 17 years ago and it's still going strong.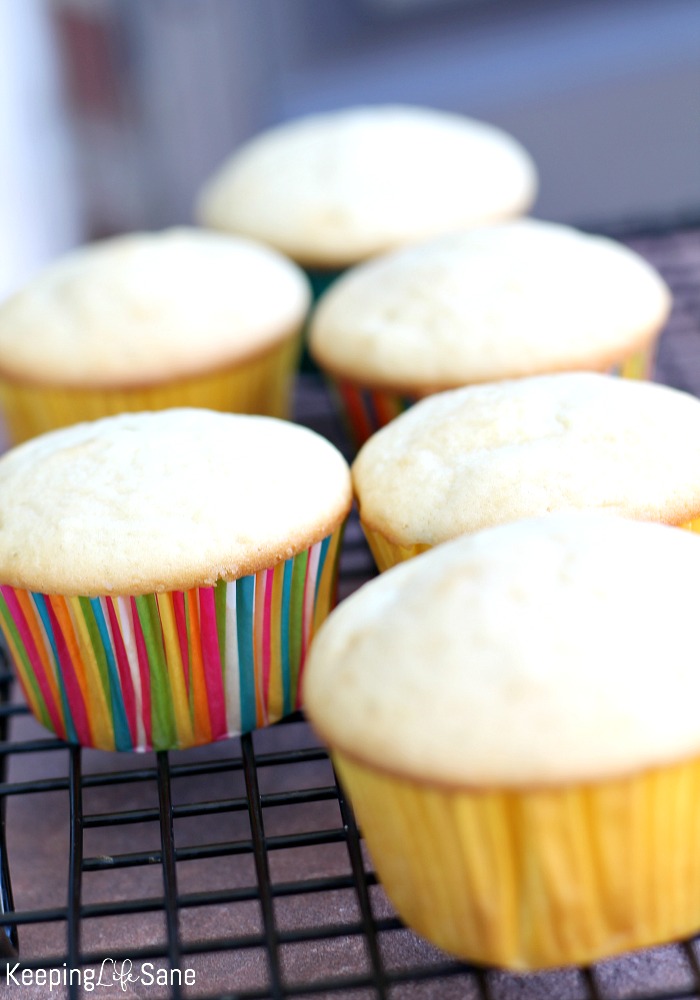 My daughter just had her birthday and I made this cupcake recipe. Of course, I didn't get a picture. Now that the kids are getting older I don't pull my camera out as much. I tried to do a 30 day Instagram challenge and post every day for 30 days. I failed horribly and only made it 3 days before I failed!
We had the best slumber party for her and I made matching shirts for the 3 girls that spent the night with their soccer nicknames. I did get a great picture of that, but I don't want to put a picture up here without permission from the other moms. They may not want their faces plastered on the Internet.
Here's something I do to make these eggless cupcakes taste even better. I make my own vanilla extract. It's so easy and simple to do. Click over to get the simple instructions here. You can get supplies at Amazon and start in 2 days, if you have Amazon Prime. This is the perfect teacher gift too.
More eggless recipe info
****I have an Egg Free Dessert Pinterest board. If you are looking for more egg free recipes go follow over there. You'll never complain there there are no desserts without eggs because I have a ton saved there and adding more everyday.****
****I also have an Egg Free Dessert Facebook page. It's steadily growing and I post on their a few times a week with desserts I find. You can go to it here.****
Okay- Here's the recipe. Let me know if you have any questions. Make sure to keep scrolling because I have a few more eggless recipes for you.
Eggless Vanilla Cupcakes
I love these eggless vanilla cupcakes. They are the BEST I've ever tasted, so light and fluffy. They're perfect for any birthday or celebration.
Ingredients
3

cups

flour

1 1/2

cups

sugar

1/2

cup

softened butter

1 stick

1 3/4

cups

buttermilk

2

teaspoons

vanilla

1

teaspoon

baking soda

1

teaspoon

baking powder

1/2

teaspoon

salt
Instructions
Preheat oven to 350° F.

In a large mixing bowl, cream butter and sugar. Add in buttermilk and vanilla and mix well.

In a separate bowl, combine flour, baking soda, baking powder and salt. Add mixture to the creamed butter and combine thoroughly.

Place cupcake liners in muffin pan and fill 3⁄4 full.

Bake for 20 minutes or until toothpick comes out clean.
Notes
Overcooking will make these dry and crumbly. You may need to check often so this doesn't happen.
I also have a few more egg free recipes on my blog. You can click over here to see them.
You may like these chocolate chip cookies that are eggless. It's my most viewed eggless recipe.
This eggless banana bread is all FANTASTIC!
These Praline Chews are also eggless!!