Cooperstown Dreams Park Player Packing Checklist
Headed to Cooperstown this summer? You've already spent a fortune to get there so here's the Cooperstown Dreams Park player packing checklist on a budget.
This post contains affiliate links and I will be compensated if you make a purchase after clicking on my links. As an Amazon Associate, I earn from qualifying purchases. Check out my privacy policy for more info.
Guys!  If you are reading this, then you are going to Cooperstown Dreams Park!  You are going to LOVE it and have so much fun and it was a great experience! I was seeing all kinds of packing checklists so I decided to keep track of what I bought and make a list for what we actually needed.
I thought some of the lists were crazy of all the things they tell you to bring. Here's my Cooperstown Dreams Park player packing checklist for the items my baseball player actually used!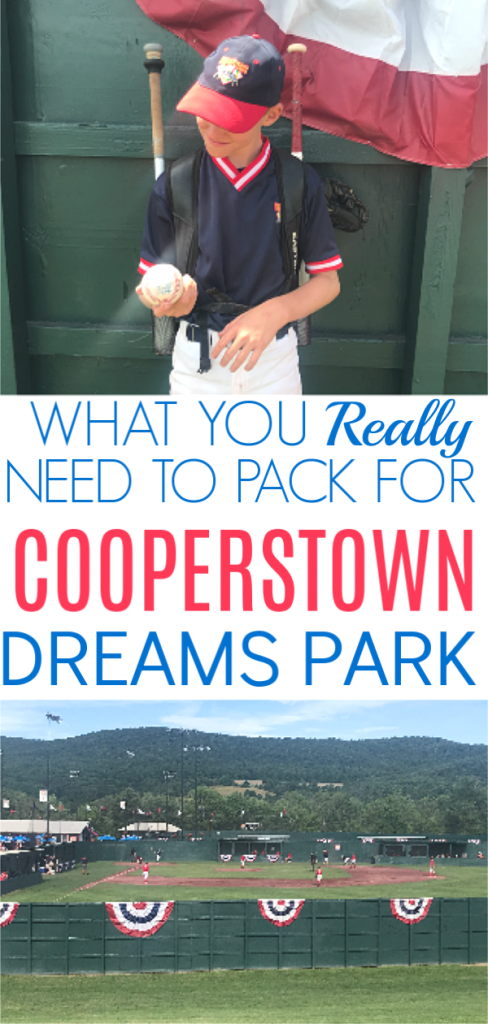 Cooperstown Dreams Park Tips
As soon as we pulled in the line to get into the barracks, the players started pin trading. It was so fun for them and my husband and I loved looking at all the license plates from all over the country.
You will spend lots of time at the park and the consession stands are great for food and the prices are reasonable.
This trip was the best and you will LOVE it! Cooperstown is a great little town with fun restaurants and shops.
This is my son hitting his home run at Cooperstown and literally the only video I took!  It was a miracle.  We had kids hitting home runs right and left and each one is so awesome!  The sound should be pretty low so you shouldn't hear all the screaming!
Cooperstown Dreams Park Packing List
First, I want to tell you that you need to remember these are 12 year old boys. This isn't what YOU would use on a trip. So many people over packed.
I'll tell you what…they don't need much.  The boys were in their uniform most the time and playing baseball.  My son only wore one outfit of regular clothes so make sure you don't over pack.
The Cooperstown Dreams Park barracks are pretty plain and only have the bunks and lockers at the foot of the beds.
Amazon
The link to see exactly what I bought.
Locks for the foot locker that holds their stuff. You need two and this is a 2-pack.
Gold Bond Spray– My son never had a problem with this and didn't think I needed it. Believe me when I say every single kid on the team needed this!
Dollar Tree
Most are toiletry items, but I don't even think they really took showers, just got in to cool off.  I'm pretty sure none of this was even used.
Body and Hair Wash combo
toothpaste
toothbrush
deodorant
2 pack of wash cloths
Mesh laundry bag
Glow sticks, water guns, and silly string for fun
Walmart
Water- Each player brought 2 cases.
Towels X 2 ($1.97 for 1)
Twin Sheets (They have a set for $4.97)
Flip Flops for shower ($.98)
Wiffle ball set- They played a lot.
Stuff we had that we took.
Box Fan
Extension cord
power strip
Drawstring bag with trading pins
Pillow
Things I bought there.  
My husband jumped out of the van while we were waiting in line to get into the barracks and picked up these items up at the gift shop. The photo center, where you will spend lots of time looking at your photos is here also.
towel for Cooperstown Dreams Park pins- $7.99
tournament t-shirt- $12.99
***Send extra money for the arcade and snack bar.***
We happened to be there the hottest week in years. It was over 95 almost every. single. day! My son said the fans didn't really help, but I'm leaving them on because any normal week it probably gets the air circulating and works much better. The team only stayed in the bunks 4 nights it was so hot.
We were traveling through New England after the tournament so he threw away the towels, washcloths, and little fan. We left the box fan.
This is my favorite picture from the entire trip, my son looking at his homerun ball!
Hope you have fun at Cooperstown Dreams Park! You are going to love this tournament. Please comment if you have any questions!
Oh- I almost forgot! I LOVE these tanks for mom!! Just click on the photo to order it!
I have to put this in because Cooperstown was so awesome!! This flowy tank is so cute!!
More Cooperstown Dream Park tips- Make sure to check out all these fun things to do in Cooperstown, NY while you're there!