Save some money and make your own protein snack packs. They're easy to do and much healthier than other concession stand food.
This post contains affiliate links and I will be compensated if you make a purchase after clicking on my links. As an Amazon Associate, I earn from qualifying purchases. Check out my privacy policy for more info.
I have kids that play lacrosse, baseball, and soccer in the spring. We are always on the go. Yesterday my husband attended 2 lacrosse games, 1 soccer game, and 2 baseball games.
When we're away from the house I try and pack up food to take so we aren't spending the money on concession stands and fast food but that means planning ahead. These portable protein snacks are simple to make and the kids love them.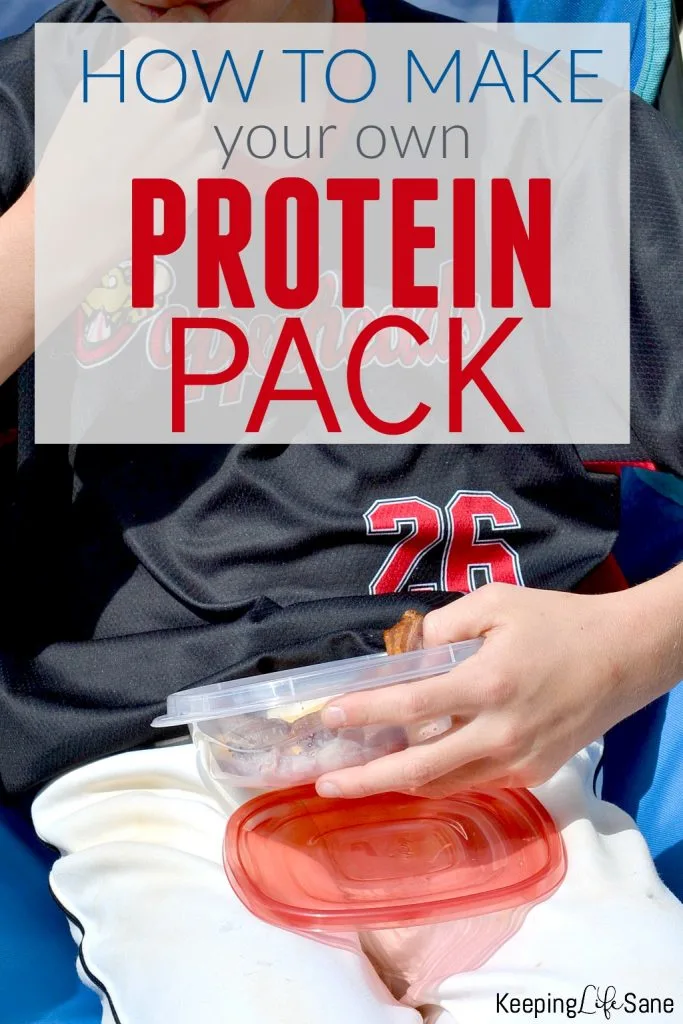 Portable Protein Packs
I try to plan and do some meal prep and pack up food the night before so I'm not rushed. Leaving at 6 am for a baseball game is NEVER fun! We usually have sunflower seeds, beef jerky, crackers, chips, popcorn, protein bars, etc.
Sometimes the kids play through lunch or only have a small break between games so I was buying those protein snack packs you see in the refrigerated section of the grocery store and man, those can get expensive and fast.
My kids loved them but could eat 2 or 3. I decided to make my own at home and they've been a huge hit!
How to Make Easy Protein Snack Packs
Bacon
My kids LOVE bacon. I make my bacon in the oven. If you've never made bacon in the oven, then you are missing out. It's great when you are busy because you can set the timer and get other things done. Here are instructions on how to do that.
Update: Since I wrote this post, I've gotten an air fryer and it's changed my life! I use it all the time and bacon is one of my favorite things to make in it. This is the air fryer I have and love. I even bought this exact one for my mom.
You can leave the bacon in strips like I did in the picture or cut it into smaller pieces. I would do whatever your kids prefer.
Cheese
I asked the deli section at the grocery store to cut off a big piece of cheese and then I cube it at home. I've experimented with several kinds of cheeses and my kids love American cheese! They also like mozzarella, colby jack and cheddar cheese.
Meat
I found a brand named John Morrell that has ham already cubed at my local Food Lion in the area that has the bacon, sausage and lunch meat. I buy that, but I'm sure there are other brands. You can also just buy a ham and slice it yourself. Cubed turkey is also good to use.
I add all three of these to a container and throw it in the cooler. Even the kids that aren't playing love to snack on these and are MUCH healthier than candy and nachos from the concession stand.
Here are other items I like to throw in there too. I have these containers and the kids love the separate compartments which let you add more to them.
grapes
mandarin oranges
peanuts
almonds- Actually, any nuts you like are good to add.
pumpkin seeds
raisins
sunflower kernels
trail mix
dried fruit
Greek yogurt
Update 2- I spoke with my sister-in-law and her daughter does dance and it seems that those competitions last all day. She likes to have lots of healthy snacks too. She said that she and the other dance moms use a similar system, but use these awesome craft containers that have tons of little compartments.
I thought it was such a good idea so you can pack a ton of different snacks that kids like and not take a huge grocery bag of stuff. The container linked above has removable dividers so you change the size of your compartments for different sized foods! My middle son is going to love this. You can make the snacks personal for each kid!
No bake protein balls
I have a great recipe for a healthy no bake protein ball. You probably have all the ingredients in your pantry right now. You do need to keep these out of the heat though just because it will make them sticky.
What do your kids like that you would add in? I'm always looking for new ideas.