Get the year started the right way by downloading this cute and free 2023 printable calendar.
This post contains affiliate links and I will be compensated if you make a purchase after clicking on my links. As an Amazon Associate, I earn from qualifying purchases. Check out my privacy policy for more info.
Well, it's that time of year again. Time for the 2023 calendar. My kids went back to school about two weeks ago so that's my cue to get my calendar out.
I haven't been doing many printables lately because my creative juices aren't flowing and I can't get the look I want. I took some time off from them for a while. However, this calendar gives me hope because I only ran into one problem and that was that I ran out of ink when I went to print it out!
The FREE 2024 calendar is now complete. Click over to print it out!
2023 Yearly Calendar
I always print out my pages to make sure everything looks perfect before I hit publish. Now I have to wait on Amazon to deliver my ink before I can publish this post.
Update: My ink came in a super timely manner so I'm on schedule. Go Amazon!
I didn't add any federal holidays to my calendar because I didn't want to take up any extra space for you to write. If you're like me, then you have several things written on each day. I wanted to give you as much room as possible for each day.
More Free Printables
Here are some other printables that are popular every year. You can also click PRINTABLES on the menu above to see all of them.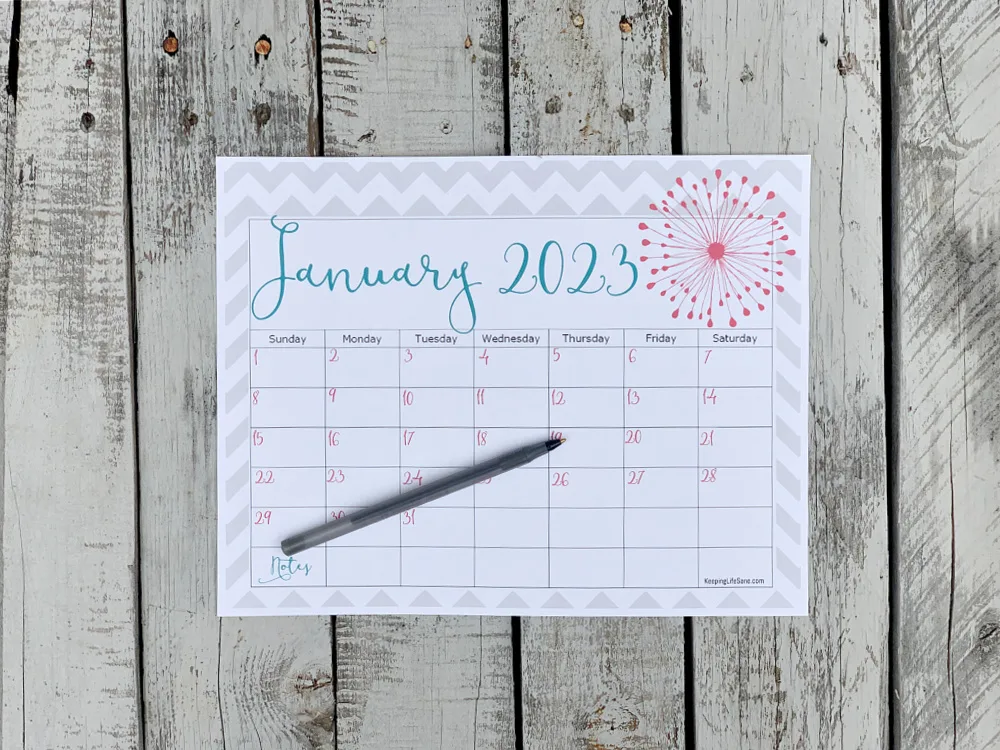 Print out your FREE 2023 Calendar here!
It's easy to print out. Just follow these directions. Click on the month you want and it will take you to Dropbox so you can download the image to your computer to save or print. You don't have to have a Dropbox account to get the calendar.
I have my pdf calendar stored there so I can give out a higher-quality image without slowing down my website. Please let me know if you have any issues and I'll get you going!
You may need to adjust your printer settings to fill the entire page with the calendar so make sure you print preview.
If you prefer to print out all the months for 2023, you want to click here!
Printable 2023 Monthly Calendar