Stay organized this year and get this printable blank calendar for FREE! You can print it out for the entire year or just the months you need.
This post contains affiliate links and I will be compensated if you make a purchase after clicking on my links. As an Amazon Associate, I earn from qualifying purchases. Check out my privacy policy for more info.
My other calendar that I made is pretty popular, so I decided to make a blank calendar to print that you can use year after year.
These are great. You can print out all the months or just the ones you need for FREE. You can print out several copies and each child can have their own. Do you need a workout calendar? This would be perfect so you can keep track of what you plan to do so you can meet your goals. Print one out for your monthly dinner menu or kid's sports calendar.
Here are a couple of my other free printable calendars.
Tips to help keep your calendar organized
Tip #1
Color code your calendar. Using different colored pens can save the day. Choosing colored pens for each child can help you and your kids stay organized. Now you can quickly look for a color and know who's got something going on. My son uses these colored pens with erasers in math class. I've started using them too.
If you are using your calendar for a menu, then using a different colored pen for each meal makes planning simple.
If you are using your calendar for your daily to-do list, choose a color for high-priority items and another for low priority to help keep you on track.
Tip #2
Update your calendar often. Don't be afraid to move things around and make changes. Keep your calendar as accurate as you can at all times. If you know a school meeting is canceled, mark it off immediately. This is why those erasable pens are so good!
More printables to keep you organized
Password Tracker– This is colorful and looks great hanging in an office or teens room.
Password Keeper– This will hold more passwords than the one above but still looks good to leave out for quick reference.
Here's your Blank Calendar to Print
It's easy to print out. Just follow these directions to download blank calendar.
Click on the month you want and it will take you to Dropbox so you can download the image to your computer to save or print. I have my printables stored there so I can give out a higher quality image without slowing my website down. Please let me know if you have any issues and I'll get you going!
You don't need a Dropbox account to get any of my calendar templates. You just to click on the link and you've got it.
Scroll down to get the link to print out all the months at one time.
It will save you some time so you're not clicking on each individual month.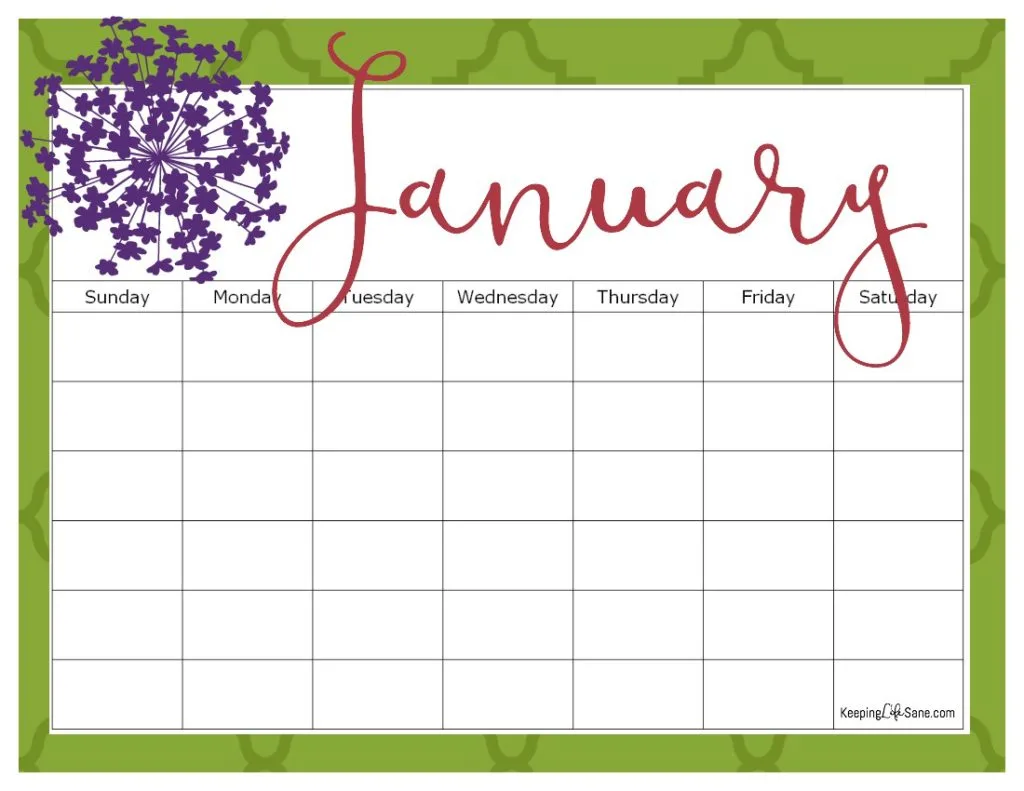 Here is the PDF you can download and print all the months at one time! You can do that here!