Switch things up this year and try giving some Halloween candy alternatives. Kids will love something different in their bags.
This post contains affiliate links and I will be compensated if you make a purchase after clicking on my links. As an Amazon Associate, I earn from qualifying purchases. Check out my privacy policy for more info.
I don't know about you, but my kids come home with so much candy and junk on Halloween night that it's ridiculous! There is no way we could ever eat that much candy. I don't mind a little candy, but really, the amount they come home with is insane. I rarely buy candy anyway.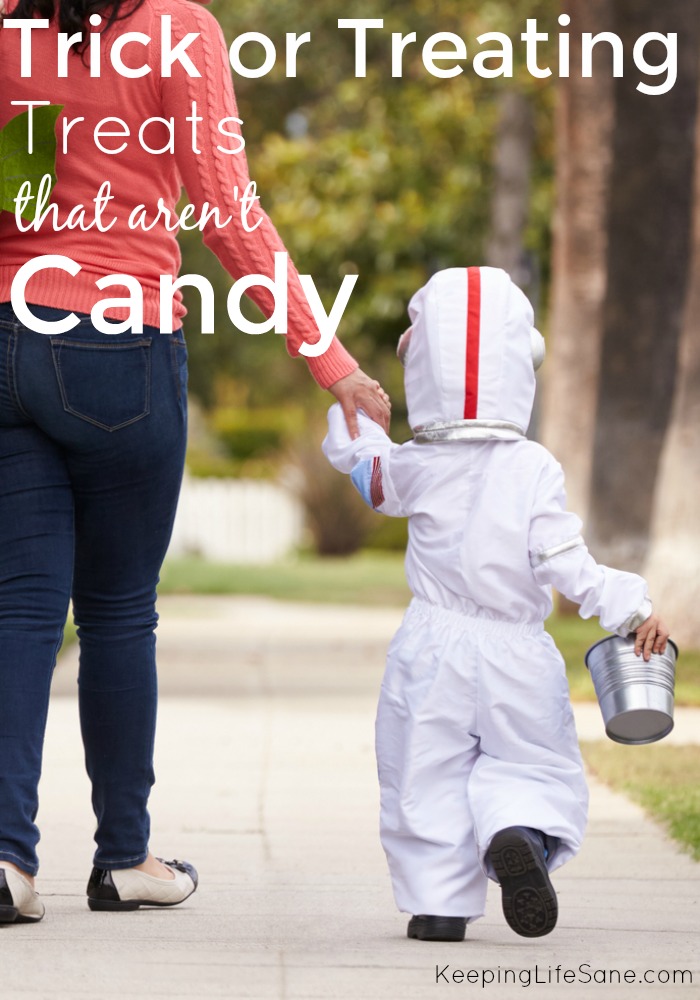 Non Candy Halloween Treats
A couple of years ago I decided to try something new. I went out to buy candy and it was really expensive. Some of the bags were over $15. I realized I would be spending $40-$50 on candy we would be handing out. I went a new route and got little toys and trinkets to hand out to our trick or treaters instead.
Each child received one item and had a ton left over. I realized that when I handed out the candy I usually gave out a couple of pieces per child, but they were happy receiving fewer of these little toys.
I had enough to hand out the next year without having to purchase anything new. It cost less in the long run but had a little more upfront cost. Luckily, none of these toys can go bad so I just put them away until the next year and was prepared for Halloween night.
All of these items are Amazon Prime so you can get them in 2 days with FREE shipping if you are a member. I'm sure most of you are already! I'm surprised how many items I found that would be perfect for trick or treaters.
My husband made fun of me and said no one would like our house because we weren't handing out candy, but I can tell you it was a hit and he was WRONG. The kids were really happy to see something different. They loved the fun Halloween treat ideas of little toys I had gotten. Here are some things I bought and things I'm adding to my list.
This is a picture of my daughter (she has asked me not to show her face on my website anymore) and about half of her candy. She had already sorted some and put it away. She always gets so much that she can't even carry it all. She literally had to make a pit stop and dump out the pillowcase because it was tearing. It was so heavy!
If you look closely, you can see that's it all candy. Nothing really different, except maybe the Capri Sun, which is a good idea too. She would have loved getting something unique like vampire teeth, a bracelet, or anything that glows in the dark!
Update: One update I have on this post is that I had a mother thank me for offering other items besides candy. Her son had some physical and developmental delays and that he couldn't have a lot of the candy he was receiving. I filled up his Halloween bucket with all kinds of non candy treats!
Halloween Candy Alternatives