This post contains affiliate links. Check out my privacy policy for more info.
My kids love french fries! I bet yours do too. Luckily, you found this recipe for the BEST homemade air fryer French fries! I wrote and entire post on why you should buy an air fryer because I love mine so much!
I'm always struggling finding healthy sides for dinner. My kids love mac and cheese, but they hate rice, quinoa, couscous, etc. It's so frustrating and I don't want to make food that will go to waste because they won't eat it. It's not that they won't try it, they just don't like it.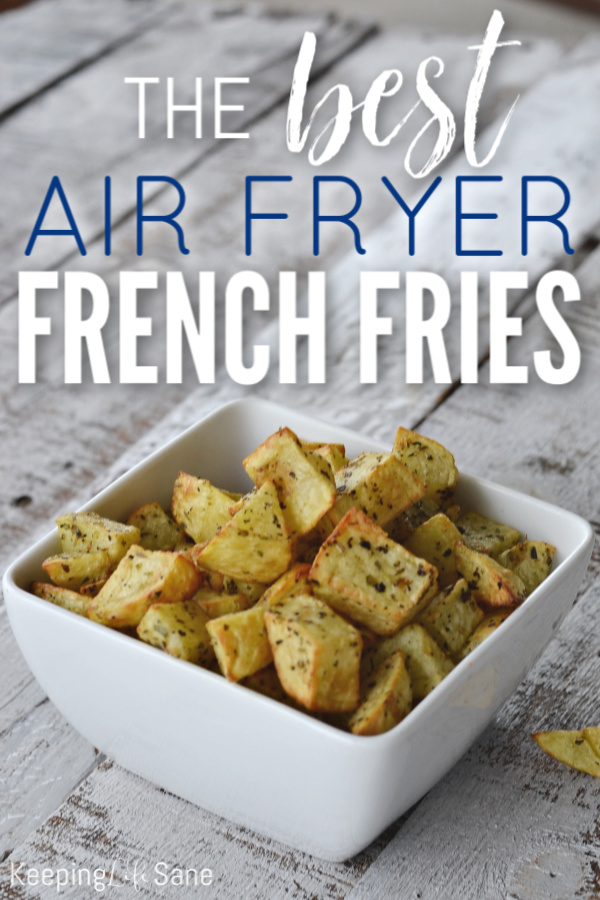 The BEST Homemade Air Fryer French Fries
Our old reliable is homemade french french fries. I had been doing them in the oven and we loved them, but then we got the air fryer and I switched over to using that instead. Using the air fryer is perfect because I always have a million other things on my mind. It's so easy to use.

If you are looking for some more air fryer recipes, then you can go follow my Air Fryer Pinterest board. I'm always saving new recipes and I have tries several on there! I've tried some copy cat Chick-fil-a nuggets and it was so good. You'll never guess what the secret ingredient was. All kids approved!
We make potatoes a lot and I'm trying them all different ways. These French fries are the easiest!
The BEST Air Fryer French Fries
Air fryers are the best and this is the BEST homemade air fryer French fries on the Internet. You are going to love this three ingredient side dish.

Ingredients
4

red or gold potatoes

peeled and cubed

1

tbsp

olive oil

1

teaspoon

Italian seasoning
Instructions
Set air fryer to 390 and preheat for at least 3 minutes.

Add peeled and cubed potatoes to large baggie and add olive oil and seasonings. Shake until potatoes are coated with olive oil.

Dump in the air fryer and cook for 12 minutes, shaking the basket at least twice for even browning and crispiness.
You will LOVE this recipe too!