This post contains affiliate links. Please read my privacy policy for more info.
My kids love breakfast. Their favorite meal is breakfast for dinner. I made a New Year's resolution years ago to go the entire year without buying cereal. I did it, but it required me to really look at my menu and find easy recipes to do on those busy school morning.
These easy breakfast fajitas are the best. I love it when my kids can assemble their own food. I require them to put everything on their tortilla, so one kid might have one pepper and 5 slices of avocado, but it works and they're eating it.

Easy Breakfast Fajitas
One reason these breakfast fajitas are so awesome is that they don't take very long. One great shortcut is to cut the peppers, onions, and ham the night before while you're cooking dinner. It saves a bit of time in the morning so you can enjoy your coffee a tad longer.
You can store these in the same container and place in the refrigerator since they'll all cook together. In the morning you can just heat up a little oil and dump them in the pan to start cooking.
These breakfast fajitas contain so much healthy goodness.
Peppers
They are low in calories and contain gobs of Vitamin A and C. They are even known to help reduce "bad" cholesterol. Peppers are great in recipes to add a pop of color and kids love them.
Avoados
I love avocados and craved them when I was pregnant. They are so good for your brain. I tell everyone that's why my kids are so smart! 😉 They do contain fat, but it's the good fat and lowers the bad cholestrol. They have fiber, potassium, and tons of vitamins. These avocado savers are the best!
Eggs
I'm allergic to eggs so unfortunately I can't add them to mine, but eggs contain a lot of protein to get you through the morning. Two of my kids don't eat until close to 1:00 so it's important to fill them up with good food. I love eggs because they are so inexpensive.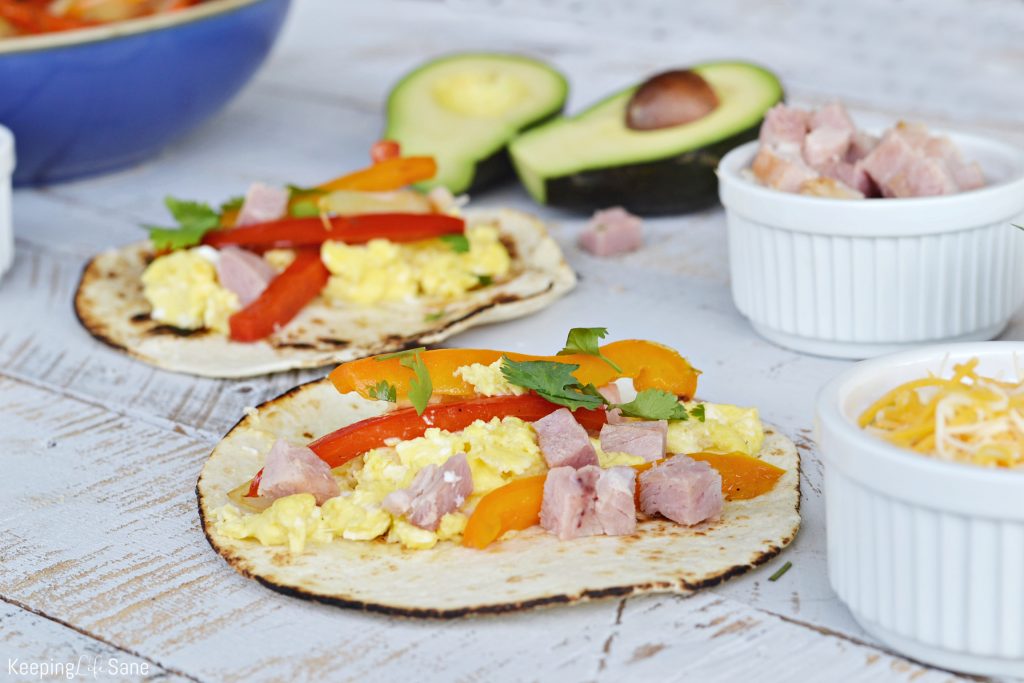 Don't forget about your toppings!
I don't know about you, but my favorite part of a lot of food is the toppings you put on. Make sure to load up on cheese, cilantro, green onions, hot sauce, avocados, and salsa.
You can literally have this for almost 2 months straight and have a different combination of toppings.
If you have time and want to make it extra special…
If you look closely at the photo, you'll see the tortilla is cooked. I love to warm my tortillas up over the fire on my gas stove. I use a pair of tongs and cook the tortilla until it starts to brown up. Make sure it doesn't catch on fire! I think it gives the breakfast fajitas and little something extra. It's not necessary, only if you have the time.
Easy Breakfast Recipes
Are you looking for a new breakfast idea? These easy breakfast fajitas are delicious and everyone loves them. They're perfect for a crowd.

Ingredients
8

eggs

1/4

cup

milk

2

colored peppers

sliced

1

onion

sliced

2

tbsp

olive oil

8

tortillas

3/4

lb

ham

cubed
Toppings- Shredded cheese, avocados, salsa, and cilantro
Instructions
Heat oil in pan on med-high heat. Slice peppers and onions into strips and cube steak and place in hot pan. Cook 5-7 minutes, tossing frequently. Take and out put aside.

Using Mix eggs and milk together and scramble using the same pan.

Serve immediately with warm tortillas. Add desired toppings.

You may like this breakfast list too! I'm adding this recipe to it!