You've come to the right place to find eggless recipes and this eggless snickerdoodle cookie is the best on the Internet. Make sure to save it!
If you are one of my eggless recipe readers, I bet you've been wondering when another recipe is coming out! It's finally here- EGGLESS SNICKERDOODLE COOKIES!
I've been so busy with the summer and lacrosse tournaments, travel, kids and really a lot of laziness. I haven't felt like turning on the oven lately.
I've also been trying to reduce my sugar. I went on a no soda 30 day challenge in May and I've really stuck to it and I've only had 3 Cokes all summer. It really has decreased my cravings for sugar overall.
For those of of you that are just finding me and my recipes for the first time, I'll tell you a little about myself. I am allergic to eggs and I don't like making things I can't eat. My mom discovered I was allergic to eggs when I was around 6 months old- so 40 years ago.
When I was young I really just stuck to Dairy Queen ice cream, Oreos, and Chips Ahoy, and M&Ms for my any sweet treats. Now I have more time and my kids are older to try out some recipes that I can eat.
Eggless Snickerdoodle Cookies
First off- Snickerdoodles Cookies are one of the most googled cookies out there. Of course, I have to try an eggless version.
All I really know about snickerdoodle cookies are that they have cinnamon in them and what they look like. I've never had an snickerdoodle with eggs so I'm hopefully close to the egg version.
My husband proclaimed, "I like these better than the eggless chocolate chip cookies!" This is huge since my chocolate chip cookie recipe is ranked one of the top in Google and they are DELICIOUS!
He's usually my taste tester and tells me how they taste compared to baked goods with eggs, using lots of adjectives. I know if I like something, but will an egg eater like it too?
Where to find more eggless dessert recipes
If you are coming to this recipe because it's egg free, then you're in luck! I have an egg free desserts Pinterest board. If you like searching for things on Pinterest, make sure to follow that board to get all kinds of dessert recipes. I have over 1000 items pinned now.
I also started and an Egg Free Dessert Facebook page. If you are more of a Facebook person, make sure to like and follow it. I started it about a year ago and there are already over 1000 followers.
Eggless Snickerdoodle recipe
Ok- You don't need anything special to make this recipe. There are so many recipes I find that are egg free, I click on it and it has all these weird ingredients that I don't have and probably never use. I've cleaned out my cabinets several time and found some of these things with expiration dates over 2 years ago!
I keep all my recipes with ingredients that you normally have and that you don't have to buy from a speciality store.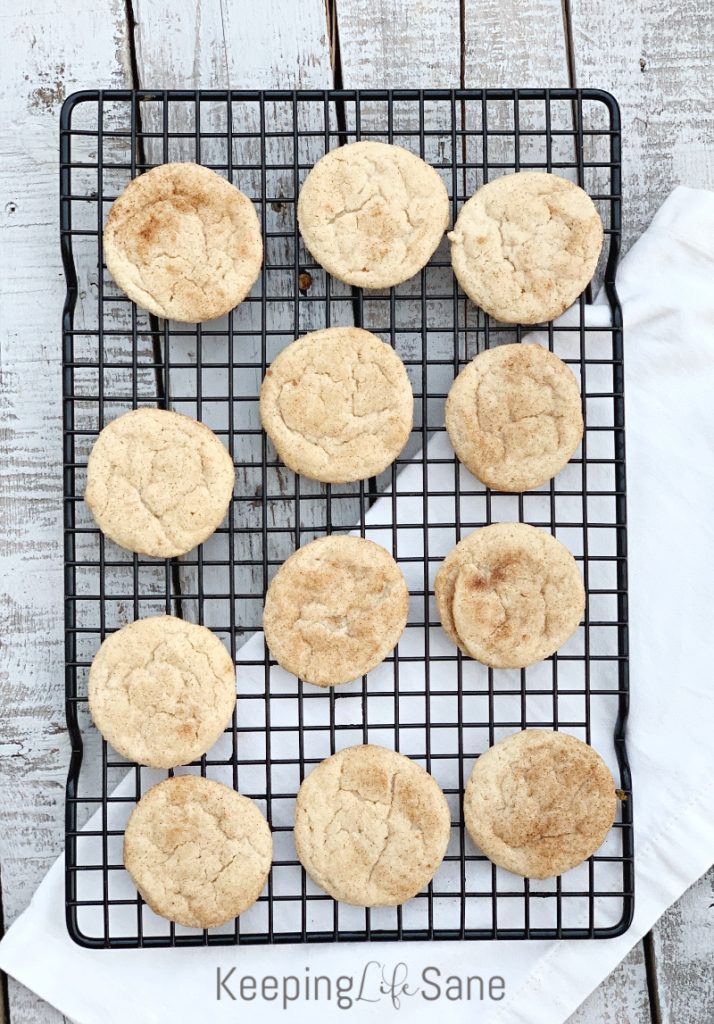 More Eggless Cookies
Here are some more of my eggless cookies that you need to save.
Eggless Snickerdoodle Cookies
You've come to the right place to find eggless recipes and this eggless snickerdoodle cookie is the best on the Internet. Make sure to save it!
Ingredients
2

cups

flour

2 1/2

teaspoons

baking powder

1/2

teaspoon

ground cinnamon

1/2

cup

salted butter

1 stick

1/2

cup

sugar

1/4

cup

brown sugar

1 1/2

teaspoons

vanilla

2

tablespoons

vegetable oil

2

tablespoons

water
Sugar Coating
1/4

cup

sugar

1

teaspoon

cinnamon
Instructions
Add flour, baking powder and cinnamon to a bowl. Stir and set aside.

In another bowl, add sugar, brown sugar and room temperature butter. Beat with a mixer for about two minutes, until smooth.

Add vanilla, water and oil to butter and sugar mixture and beat until combined.

While mixing, slowly add in dry ingredients to wet ingredients until smooth.

To make topping, combine sugar and cinnamon in a small bowl.

Make dough into 1 inch balls and roll in sugar and cinnamon mixture until coated.

Place 12 at a time on a baking sheet and bake for 9-11 minutes.