Bringing home a new dog can be a wonderful experience, but make sure you get your puppy essentials and grab this new puppy shopping checklist to make the experience even better.
This post contains affiliate links and I will be compensated if you make a purchase after clicking on my links. As an Amazon Associate, I earn from qualifying purchases. Check out my privacy policy for more info.
We got a new puppy! Yay! He's so fun and cute, but boy, puppies sure need a lot of stuff! I wish I had a new puppy checklist before we got him. We've had a puppy before, but you forget everything they need.
I've made at least three trips to the store in the past four days for puppy supplies! PLEASE learn from my mistake. We spent so much money on all this stuff because we didn't plan. We didn't get to shop around for the best price or something cute that I would rather have. Isn't he the cutest thing EVER?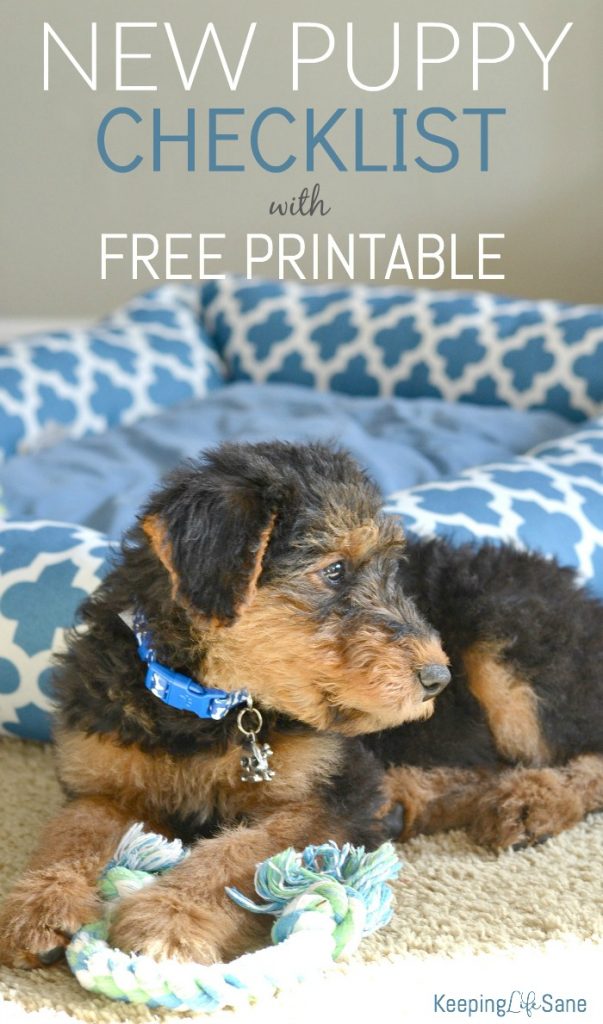 New Puppy Checklist of Essentials
Below is everything you'll need when you bring home your new puppy to your family. Make sure to scroll down to the bottom and get the instruction on how to print out this shopping list.
Puppies don't stay in their collars long because they grow so fast. This is an inexpensive one since you'll probably buying a bigger one soon.
Even if you are already have a dog, you'll need another one of these!
We got this kind. Not sure if we'll stick with it , but that's what were are using for now.
There are a ton of different containers to choose from. We use a Rubbermaid storage bin that closes tight.
These are perfect for puppy training and save a lot work on cleaning your floors. Hint: You'll use more than you think. Potty training will be a priority.
Crate
Depending on the grown size of your dog will determine the size crate you need. If you have a large breed dog then you may have to purchase more crates as they grow larger.
Toys
Make sure you get lots of chew toys for your puppy when you first bring him home. Puppies love to chew and you don't want any furniture ruined (or remote controls or sunglasses from experience).
These are a great price at Amazon- way cheaper than pet stores!
Dog bed
Make sure to get the appropriate sizes. I personally like the stainless steel ones because they are easy to wash in the dishwasher and they can't break.
Our pup loves these!
You will definitely need these. You can also buy a pooper scooper!
Brush
Depending on the type of dog will determine the kind of brush you get.
Stain remover and LOTS of paper towels
Don't forget cleaning supplies! It's not fun to have wet pee stains everywhere!
Pet Insurance
I don't have insurance on my pet, but I do know that a lot of people do and it's gaining in popularity. Update: Our puppy that had just turned one, jumped our fence and broke his knee. Just the consultation with the dog surgeon was $750! I sure was wishing for that insurance when that happened!
BTW- We've been using Chewy.com for our dog food, treats, and other accessories. It's nice to just have things delivered and not have to go out in traffic. We have our food automatically delivered.
It's really easy to print out this pdf. I store all my printables on dropbox because the files are so large. I can give you a higher quality image without slowing down my site. All you need to do it click here or on the image below and it will take you straight there.
Once you get there, then you can download to your computer, print it out, or both. You don't need an account or anything like that.
You may also like this pet post too!