6 Ingredient Cherry-O-Cream Cheese Pie
This post contains affiliate link. Click on my privacy policy for more info.
I'm allergic to eggs and this is a pie I'm able to eat and it's one of my favorites. It's so easy, quick and perfect for any occasion . My boys aren't big fans of it, but my daughter loves it. Between the two of us, we will eat the entire thing.
I know this is a cherry-o-cream cheese pie but you can add a strawberry pie filling on top if you prefer. It tastes and looks for as good!

Here are some other great summer desserts that I know you'll love! Make a couple for your next party and it's sure to be a hit.

6 Ingredient Cherry-O-Cream Cheese Pie
Ingredients
1 graham cracker crust (9″)
1 8 oz package of cream cheese
1 15 oz can of sweetened condensed milk
1/4 cup lemon juice
1-2 teaspoons vanilla- I love vanilla flavor so I usually go with the higher amount. Here are instructions to make your own. It's really easy.
1 can cherry pie filling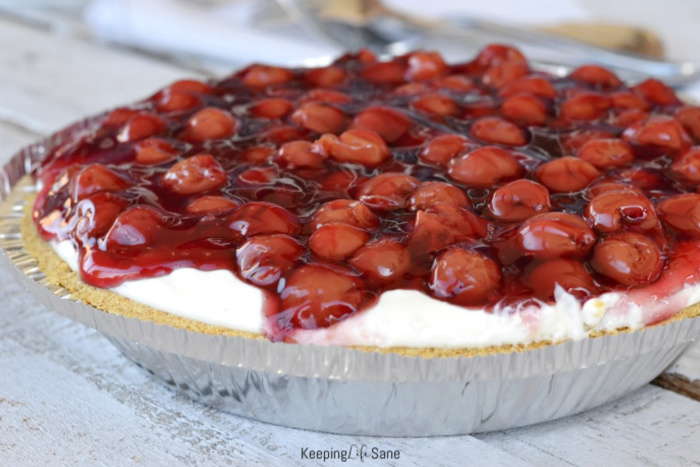 Instructions
Soften the cream cheese until room temperature
Add condensed milk, vanilla, and lemon juice and use an electric mixer and beat until fluffy and smooth.
Pour into the pie crust and chill in the refrigerator for 2 to 3 hours.
Once the pie has set and firm, spread the can of cherry pie filling over the top.
That's it! It's that easy. Store in the refrigerator and it won't last long.
You may also like these post.
The best EGGLESS Oatmeal Cookies EVER