Grab this free vertical calendar 2023 and get organized. The dots are so cute. You can write down and remember all of your commitments.
This post contains affiliate links and I will be compensated if you make a purchase after clicking on my links. As an Amazon Associate, I earn from qualifying purchases. Check out my privacy policy for more info.
I made my 2023 calendar and was in the creative mood and decided to make another one. These dots were screaming my name and thought they were so cute so I decided to just put some time aside and just do it!
Don't you love that you can practically get everything on the internet these days? You don't even have to go out to the store and shop for a calendar because of all the awesome free options and many on my website!
Free Printable Monthly Vertical Calendar
I love this free vertical printable monthly calendar for three reasons.
I love that it's vertical. I've never made a vertical calendar but wanted to do something a little different this time.
There are no dates. The month is printed at the top, but there are no numbers so you can use this year after year!
There are no dates. The month is printed at the top, but there are no numbers so you can use this year after year!
It turned out super cute and now I'm in the mood to make another, which I probably will! I like the aesthetic of this one because it's not plain, it has some style.
People use calendars for all kinds of things and many people use more than one to separate different things in their life.
Kids activities
Birthdays
Menu
When bills are due
Days off/Vacations
Appointments
Every Sunday night I sit down and look at my week ahead. I have a family planner and I have one for my work with all my office obligations. I love being organized. With three kids in a bunch of activities and taking care of the household responsibilities, if I don't write things down, I don't remember.
I also have a daily one where I list out my to-do list for that particular day- like paying bills and daily chores I need to get done. I can tell you right now I am working on selling some kids' clothes at the seasonal consignment sale and it's on my list every day. Hopefully, I can get it all done in time.
More printable calendars you may like
How to print calendar
Search no more and print this calendar. It's easy to print out the vertical wall calendar. Just follow these directions. Click on the month you want and it will take you to Dropbox so you can download the image to your computer to save or print. You don't have to have an account to download this calendar. Dropbox is free to use.
I have my printables stored there so I can give out a higher quality image without slowing my website down. Please let me know if you have any issues and I'll get you going!
I use these rings to connect all my pages together and I print out on this card stock. I can throw it in my junk drawer and it's pretty tough.
Scroll down to the bottom to print all the months at one time!
January Calendar to Print
February Calendar to Print
March Calendar to Print
April Calendar to Print
May Calendar to Print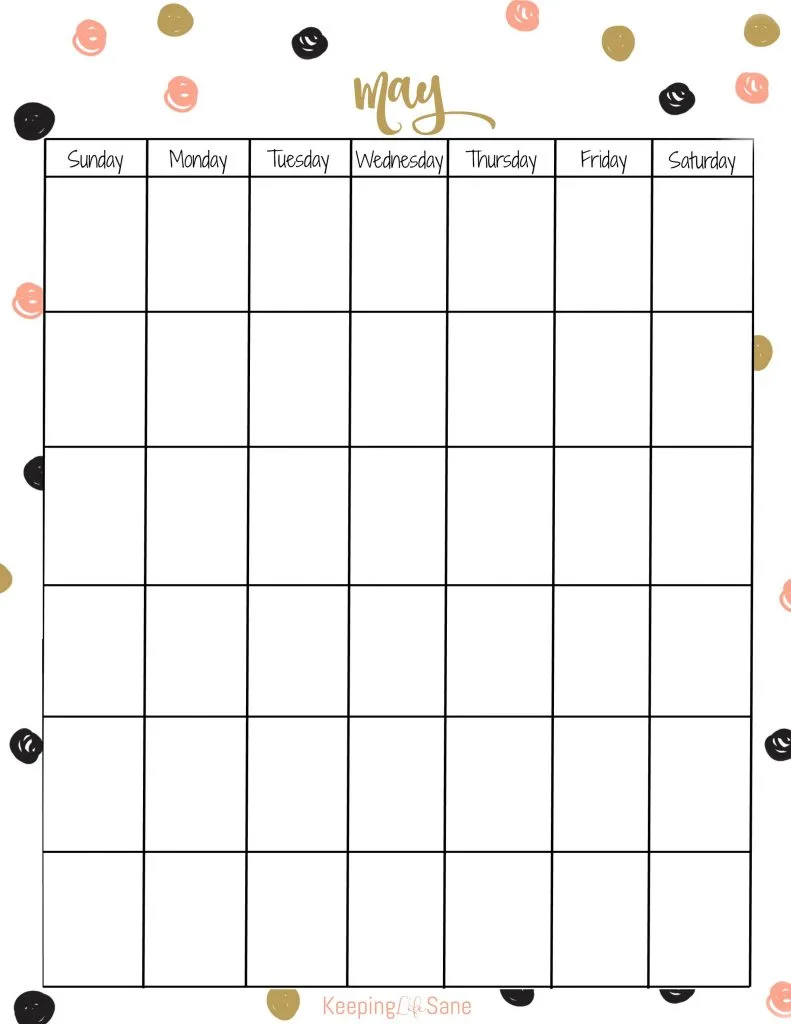 June Calendar to Print
July Calendar to Print
August Calendar to Print
September Calendar to Print
October Calendar to Print
November Calendar to Print
December Calendar to Print
To print all the months at one time, click HERE!