My kids love theMy kids love these DELICIOUS eggless blueberry muffins. They are perfect for breakfast or a quick after-school snack. NO eggs are needed.
This post contains affiliate links and I will be compensated if you make a purchase after clicking on my links. As an Amazon Associate, I earn from qualifying purchases. Check out my privacy policy for more info.
These classic and simple blueberry muffins are the best!! My kids love them and I usually double the recipe every time I make them. This is a great recipe that I highly recommend.
Costco just opened up about 5 miles from our house so we HAD to get a membership. We are buying up all their frozen fruit, perfect for smoothies and the blueberries are perfect for this muffin recipe.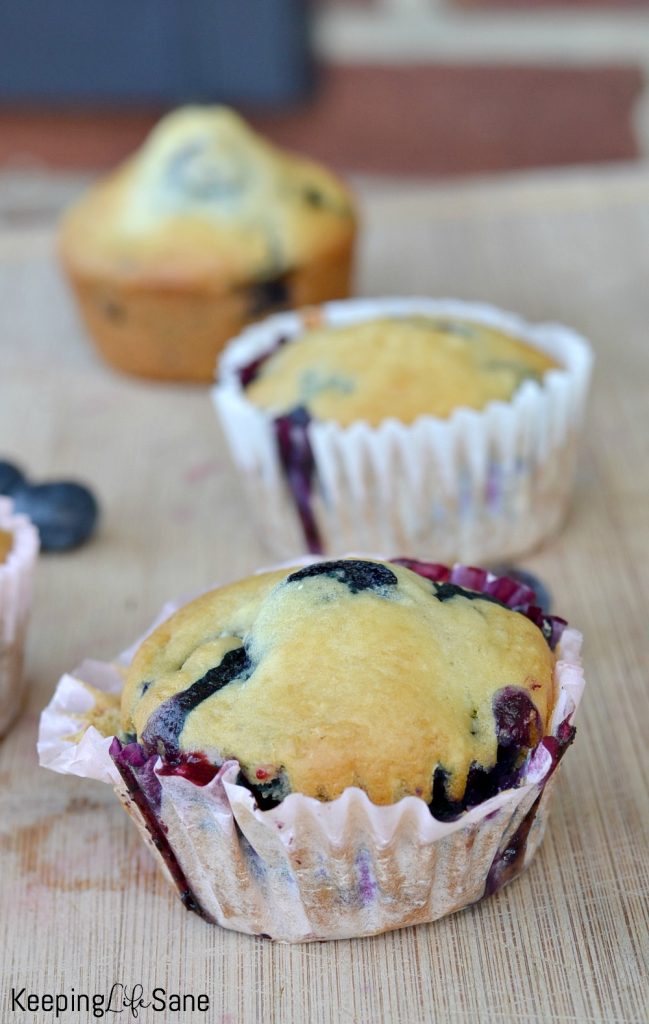 Eggless Blueberry Muffin Recipe
I have tons of eggless recipes on my blog. You should browse them and see what you can find. If you are looking for something I don't have, please message me and I can add it to my list of things to make.
Check out the Eggless Dessert Facebook page that I have. I post my recipes and others that I find that look good!
Update- My middle son got a job this summer picking blueberries! This has been so awesome because we are making a ton of these this year!
Can you freeze blueberry muffins?
They freeze great, just pull them out the night before and they will be ready for breakfast in the morning. They are also a great after-school snack.

You can use fresh or frozen blueberries so they are good any time of year. When blueberries are in season, I will make tons of these and stick them in the freezer.
Kitchen tools I love that I use to make this no egg muffin.
Ingredients to make no egg blueberry muffins
Blueberries– Fresh is always the best.
All Purpose Flour– I normally us while unbleached flour.
Sugar
Baking soda
Baking powder
Milk– Any percent is fine to use.
Applesauce (some people prefer using sour cream, but I like applesauce)
How to make blueberry muffins without eggs.
Step 1
Preheat oven and spray your muffin pan.
Step 2
This recipe is super easy! Just combine all the ingredients (except blueberries). No need to separate the wet ingredients and dry ingredients. When combined, fold in the fresh blueberries.
Step 3
Fill the muffin cups up 1/2 way with the muffin batter.
Step 4
Bake for 18 minutes or until golden brown. They turn out great!
Tip 1
You may want to coat the blueberries in flour before adding them to the batter. This will stop them from sinking to the bottom. I usually don't do this because I'm in a hurry most of the time. It still tastes the same.
More eggless muffins and other yummy egg free recipes
Eggless Blueberry Muffins
My kids loves these DELICIOUS eggless blueberry muffins. They are perfect for breakfast or a quick after school snack. NO eggs needed.
Ingredients
2

cups

flour

1/2

cup

sugar

2

teaspoons

baking powder

1

teaspoon

baking soda

1

cup

milk

1/2

cup

applesauce

1

cup

blueberries
Instructions
Preheat the oven to 375˚F. Spray with nonstick spray or use paper cupcake liners in your muffin pan.

In a large bowl, combine all the ingredients.

Use a wooden spoon to mix.

Once all the batter is mixed thoroughly, gently stir in the blueberries.

Fill the muffin cups half full.

Bake for approximately 18 minutes.