Elevate your pizza game with a twist of sweetness using our mouthwatering apple pizza recipe. Whether you're craving a standout appetizer or a memorable dessert, this apple pizza brings a slice of creativity to your table that's perfect for any occasion.
This post contains affiliate links and I will be compensated if you make a purchase after clicking on my links. As an Amazon Associate, I earn from qualifying purchases. Check out my privacy policy for more info.
Ah, fall – that magical time when the air gets crisp, leaves put on their fiery show, and fresh apples are the ultimate stars of the season. Picture yourself strolling through orchards, grabbing them straight from the branches – it's like a harvest adventure.
Whether you're baking them into pies that make your whole house smell like a cozy haven or just enjoying a crisp bite on a chilly day, fall and fresh apples go together like old friends, creating moments that taste as warm as they feel.
My youngest two children are doing virtual school, but my oldest (a sophomore) is going to school every day. It was his first day back, so I thought I would take advantage of that and try and type this up. Even though my youngest two are upstairs, I hope they'll stay occupied for a while.
My family loves pizza night and this apple dessert pizza and it's a favorite recipe. It's easy to make and doesn't everyone love pizza? Don't forget a scoop of vanilla ice cream.
Oh- If your kids like CiCi's dessert apple pizza, they'll love this! It's similar tasting to an apple crisp too.
Apple Pizza Recipe
I love apple desserts and if you like classic apple pie, then you'll definitely like this easy recipe!
This apple pizza recipe is especially for all you eggless dessert followers. I haven't been cooking much this summer, but with fall coming quickly, I thought it was time to put something new up. It's been hard to get motivated these last 6 months. The kids being home all the time has really put a damper on my baking and recipe creation.
If you aren't a regular reader of my site, then I'll tell you a little bit about myself and my most popular recipes. I've been allergic to eggs my entire life so that meant no homemade cakes and cookies.
Many eggless recipes have weird ingredients that would sit in my cabinet and I'd never use them again. They would end up in the trash after I realized they were expired. I started experimenting with recipes and realized I could make my own recipes with ingredients I would normally find in my pantry.
The best part of my popular dessert recipes is that people, with or without allergies love them. My chocolate chip recipe is the BEST! I only make easy recipes that everyday people can make. You don't have to be a professional to make any of them.
If you're interested in more eggless recipes, you can go to the two places below.
Kitchen tools for this easy apple dessert
Pizza stone– If you have a pizza stone, this is the recipe to use it! Mine recently broke, so I've been using a cookie sheet instead and it works just fine.
Apple slicer– This kitchen tool isn't necessary because you can cut an apple with a knife. I bought this years ago at a Pampered Chef party and I was broke so I bought the cheapest thing there! I use this weekly. I love it.
Rubber scrappers– I love this kitchen tool and use them all the time. It's perfect for this recipe for stirring your sauce.
Cutting Mats– Okay, this is the last one. I love these cutting mats. They are easy to store because they don't take up much room. You can put them in the dishwasher. They are perfect for cutting fruits and vegetables and bending the mats to easily pour your ingredients into pots and pans.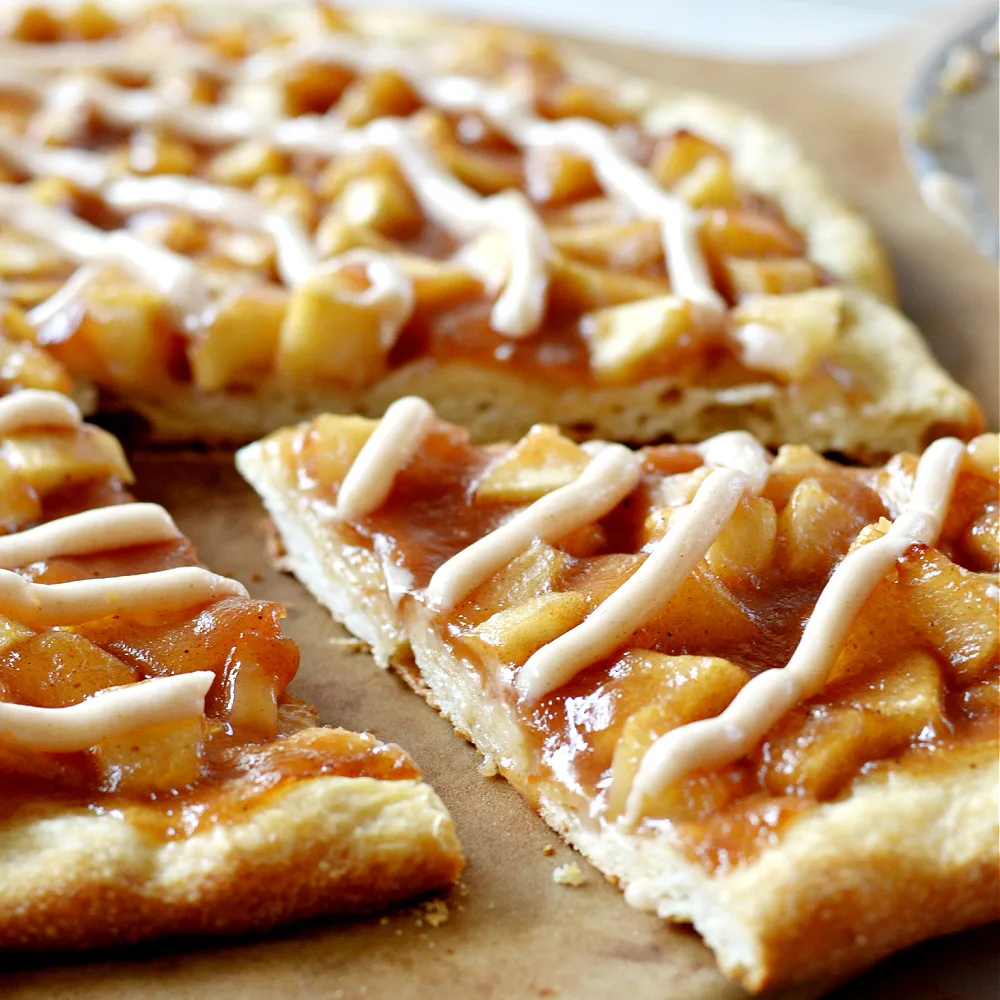 Ingredients to make delicious apple pizza recipe.
Fuji apples– Fuji apples hold their shape well when baked. Granny Smiths also works well and are sometimes easier to find. You can use either or a combination of the two. You'll want to make sure to peel your apples for this recipe.
Refrigerated prepared pizza dough– No normal pie crust for this recipe. I use store bought pizza dough from my local supermarket. It's located in the deli section. It's quick and easy. You can use Pillsbury pizza dough in the can that's located with biscuits. You can also make your dough using your favorite homemade pizza dough recipe if you have the time.
Butter– I normally always use salted butter but you can use whatever you normally buy and is in your refrigerator.
Apple juice
Brown sugar
Cornstarch
Nutmeg and ground Cinnamon
Cinnamon Icing for apple pizza
Cream cheese– This needs to be at room temperature.
Butter– For best results your butter needs to be at room temperature too.
Powdered sugar
Cinnamon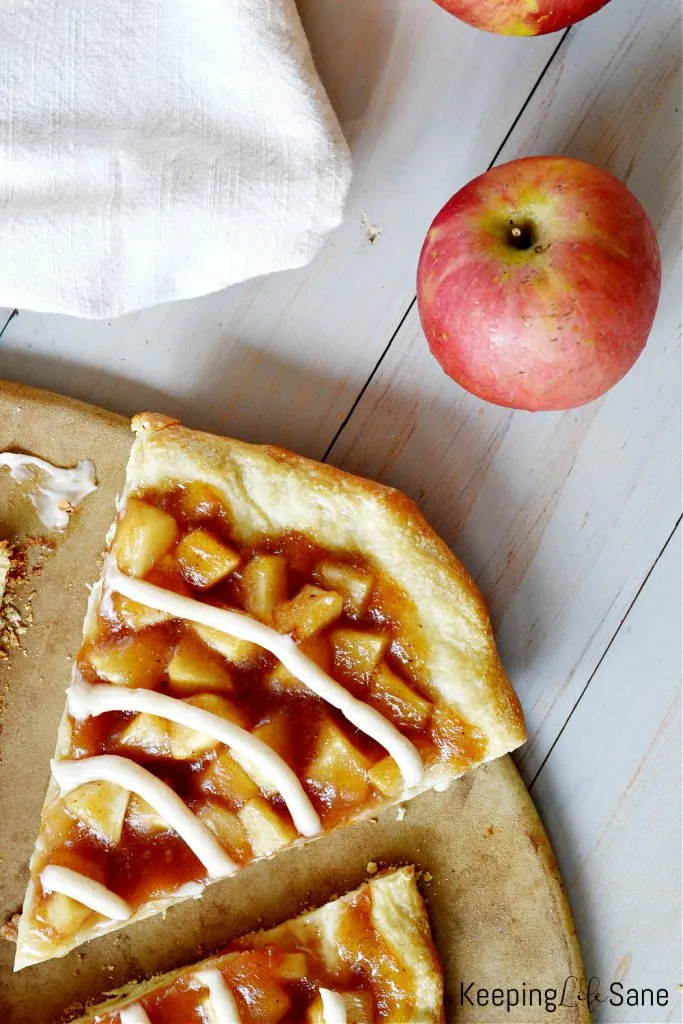 How to make Apple Pie Pizza with Pizza Dough
Step 1
Add the butter and the apples to the pan set on medium heat. Cook until the apple slices until they are tender.
Step 2
Mix apple juice, cornstarch, brown sugar, cinnamon and nutmeg in a separate medium bowl and stir until well combined.
Step 3
Add apple juice mixture to apples and stir until sauce thickens. You're making the apple pie topping which is basically pie filling.
Step 4
Stretch out pizza dough on a pizza pan or baking sheet and top with apple mixture. We like our pizza dough a little thinner at our house but you can make it thicker if you prefer.
Step 5
Cook for 20 minutes or until the pizza crust is golden brown. Let cool.
To make cinnamon icing
Use a hand mixer to combine cream cheese, butter, powdered sugar and cinnamon until smooth. I've had this hand mixer for almost 18 years. I received it as a wedding gift and it's still going strong.
Add icing to the baggie, cut off the corner and pipe it onto a cooled, but still warm, pizza in any design you want! Be creative.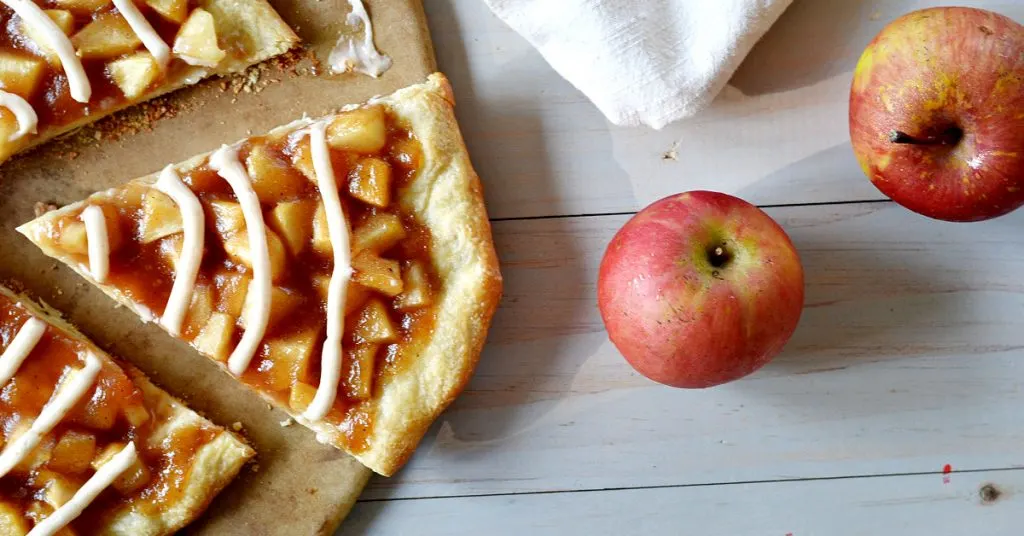 More desserts you'll love.
Don't forget, your feedback is invaluable! Feel free to share your thoughts in the comment section and a fantastic 5-star rating would be truly appreciated. I'm glad I have the opportunity to provide you with top-notch recipes, and your ratings play an important role in guiding other cooks on their quest for exciting new dishes. Your support and insights are incredibly valuable to the whole community!
Apple Pie Pizza
This EASY apple pie pizza is a great fall dessert. It's the perfect crowd pleaser that makes enough for ten people. It won't last long!
Ingredients
5

fuji apples

peeled and diced

1

Refrigerated prepared pizza dough

3

tablespoons

butter

1

cup

apple juice

1/3

cup

brown sugar

3

tablespoons

cornstarch

1/4

teaspoon

nutmeg

1

teaspoon

cinnamon
Cinnamon Icing
4

oz

cream cheese

softened

3

tablespoons

butter

1

cup

powdered sugar

1/2

teaspoon

cinnamon
Instructions
Preheat oven to 450F.

Add butter and apples to pan set on medium heat. Cook until apples are soft.

Mix apple juice, corn starch, brown sugar, cinnamon and nutmeg in separate bowl and stir until well combined

Add apple juice mixture to apples and stir until sauce thickens.

Stretch out pizza dough on baking stone and top with apple mixture.

Cook for 20 minutes and let cool.
Cinnamon Icing
Use a hand mixer to combine cream cheese, butter, powdered sugar and cinnamon until smooth.

Add icing to baggie, cut off corner and pipe onto cooled pizza.