Looking for a way to stay organized? This free blank calendar is exactly what you need. It doesn't use a lot of printer ink either!
This post contains affiliate links and I will be compensated if you make a purchase after clicking on my links. As an Amazon Associate, I earn from qualifying purchases. Check out my privacy policy for more info.
Not much to say on this post, except, "Here it is!". This is a simple blank calendar to print when you need it. This is great for kids to keep track of their OWN homework or sports or a cleaning schedule or anything you want!
You'll need to add in the month and days, but you can use this calendar year after year so make sure to bookmark this page. I love these because you can print out a bunch and use them for different things. You can print out one page or twenty!
These are perfect if you are creating a workout, menu, honey do projects, practices, and homework. It's nothing fancy, but gets the job done. I like to have options that don't use as much ink on my printer because that gets EXPENSIVE and it prints quick!
I personally like that there are no holidays listed. I know when Thanksgiving and Christmas are and I like to have the extra space in my squares to write more.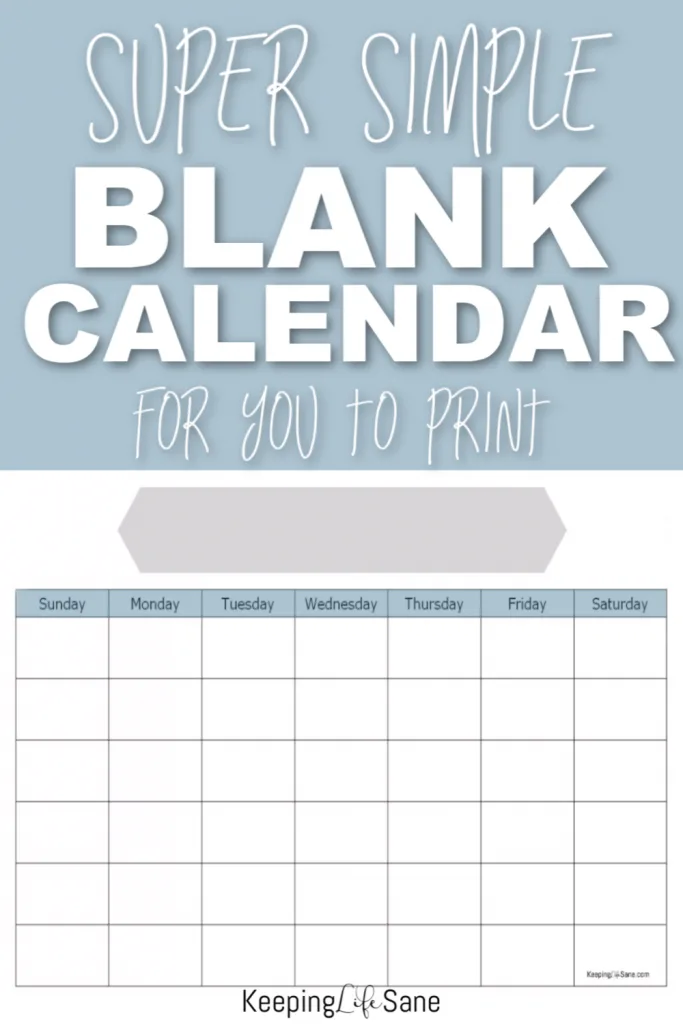 I have more free printable calendars! If you want a fancier one, I have a couple of those too.
What are you going to use the calendar for? I love getting new ideas. As I was typing this out, I thought I should print one out for my son who's starting football. He needs to get in shape before the season starts and start a workout plan.
Tips to help keep your calendar organized
Tip 1
Color code your calendar. Using different colored pens can save the day. Choosing colored pens for each child can help you and your kids stay organized. Now you can quickly look for a color and know who's got something going on. My son uses these colored pens with erasers in math class. I've started using them too.
If you are using your calendar for a menu, then using a different colored pen for each meal makes planning simple.
If you are using your calendar for your daily to-do list, choose a color for high-priority items and another for low priority to help keep you on track.
Tip #2
Update your calendar often. Don't be afraid to move things around and make changes. Keep your calendar as accurate as you can at all times. If you know a school meeting is canceled, mark it off immediately. This is why those erasable pens are so good!
More printables to keep you organized
Password Tracker– This is colorful and looks great hanging in an office or teen's room.
Password Keeper– This will hold more passwords than the one above but still looks good to leave out for quick reference.
Blank Monthly Calendar Template
It's easy to print out. Just follow these directions.
Click here or on the printable and it will take you to Dropbox so you can download the image to your computer to save or print. I have my printables stored there so I can give out a higher quality image without slowing down my website.
You don't need an account to open the file. It's free to use.
Please let me know if you have any issues and I'll get you going! It doesn't require anything special on your computer to get this free printable calendar.