Print out this FREE printable football subway art for the fall. It's an inexpensive way to decorate your house for fall!
This post contains affiliate links and I will be compensated if you make a purchase after clicking on my links. As an Amazon Associate, I earn from qualifying purchases. Check out my privacy policy for more info.
You must be looking for something new to decorate your house this fall or get some game day ideas. I love printables and you can find a lot on Pinterest. Many of those printables are free! You're lucky you found this free football subway art. There is no need to add anything "to the cart" or pay for shipping. You can download this straight to your computer.
Do you have a football player in your house too? I have two boys, one plays for the middle school, and the other plays on a JV level team, ages 4th and 5th graders.
Football is neither son's main sport, but it sure seems like it when football season comes around. We're always at practice or games and they're always on their fantasy football apps.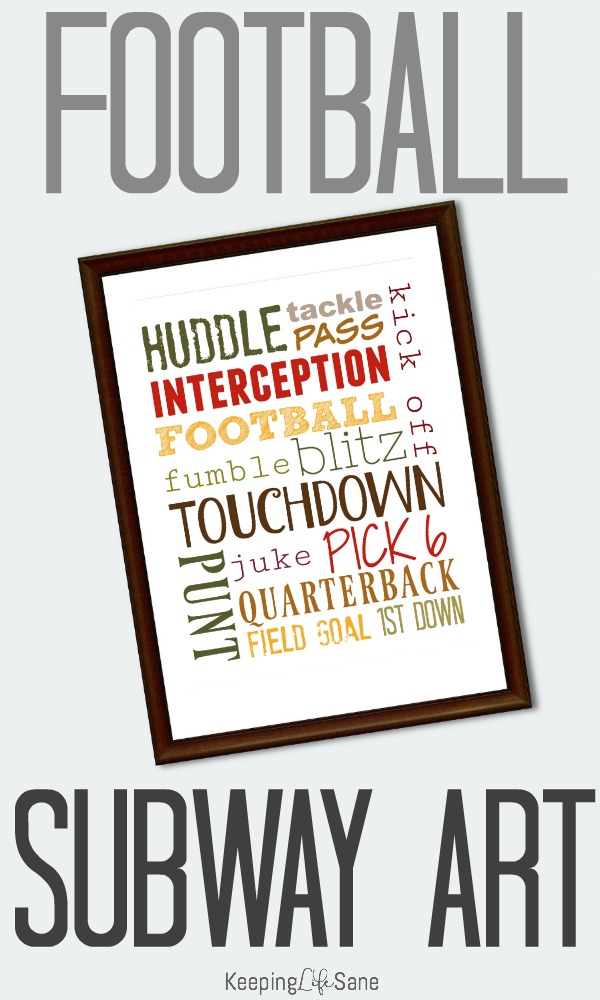 Free FOOTBALL Printable
As always, I love shopping at Amazon because I don't have to leave the house. Here are a couple of cute frames!
Frame #1– I LOVE this frame! It's perfect for the fall.
Frame #2– You could rotate what you want in this frame all year round. It will look super cute in the summer too.
I'm pretty thrifty and don't like spending money on decorations. I feel like I'm just paying off the credit card from our summer vacation! I love using printables I find online. I even have a Pinterest board full of printables. Make sure to check those out.
I have a different football printable design that's free and perfect for football party decorations. Click over to print the below image too.
Football Party Recipes
If you're having a football party, you're about print some football decorations and now you need the food.
Other Great Football Articles
Directions to print out Football Art
It's easy to print out. Just follow these directions. Click here or on the image above and it will take you to Dropbox so you can download the image to your computer to save or print.
I have my printables stored there so I can give out a higher quality image without slowing my website down. Please let me know if you have any issues and I'll get you going!
When I print this out on my printer, it seems to fit better when I click the Scale to Fit circle. Not sure if all computers and printers have this option so you may have to see how it prints out for you.
REMEMBER– You will have to trim your paper to fit the frame because it will print on an 8 1/2″ x 11″ sheet!!