I'm a FOOTBALL MOM and I spend my Saturdays at the football field cheering them on. I've found some really cute things for football moms that you'll need to show your love of football!!
This post contains affiliate links and I will be compensated if you make a purchase after clicking on my links. As an Amazon Associate, I earn from qualifying purchases. Check out my privacy policy for more info.
Football season is so fun and it's nice to go watch games and hear them on the TV while house cleaning in the fall. Saturday mornings are the perfect time for some youth football. There are a ton of cool things you can get to support your football team. Scroll down to see some of the best!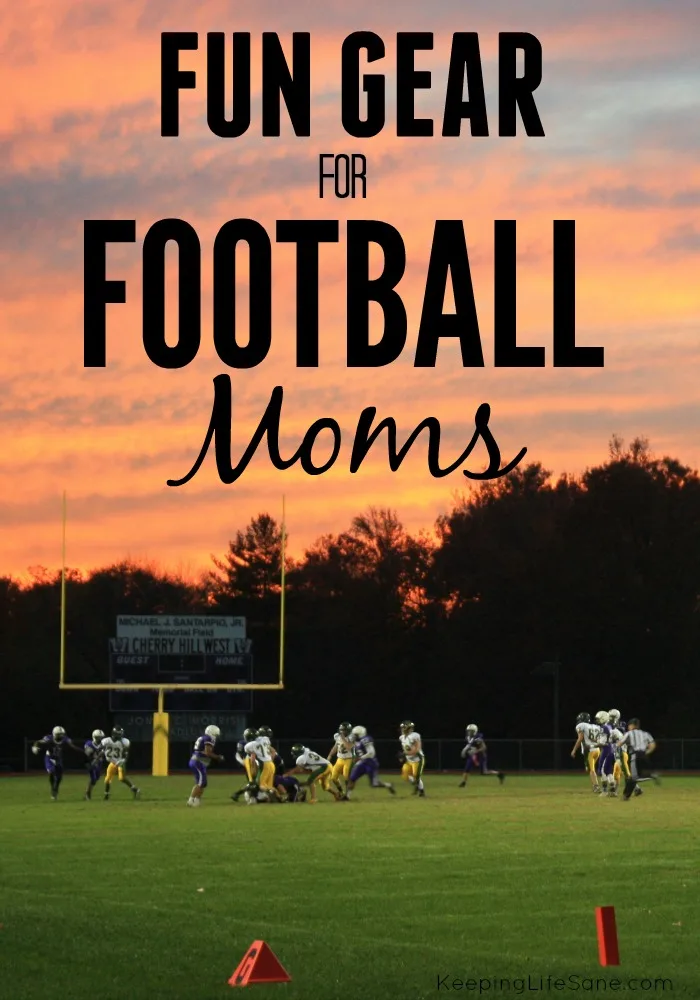 Update: My oldest son is now a Freshman in high school and is trying cross country this year. I think he'll go back to football though. My youngest son is in 6th grade and last year before middle school!
Before I get started on all the fun stuff. Here are a few more football articles that I have you may enjoy.
Here are some good recipes perfect for those busy practice nights.
Fun Gear for Football Moms
A lot of these are from Amazon, so you know you can get most of these in a day or two, with free delivery and just in time for the game!
However, many are from Etsy . I have shopped at Etsy for a long time and love how you can get custom items made easily.
These football items are perfect for birthdays, Christmas and even Mother's Day. A football mom is a football mom throughout the year! Scroll down to get in the football spirit. Hope you have a winning season!
Fun Gear for the Football Mom
These are perfect for everyone!
Photo Credit: www.etsy.com
Customize your cowbell to your team!
Photo Credit: www.etsy.com
I've seen these a lot for baseball, but I love this football car decal.
Photo Credit: www.etsy.com
My 2 boys are in 3rd and 6th grade so we are at the football field all day and perfect to make my cup cute. I'm saving money not going to the concession stand.
This shirt is such a classic football tee. This year we are starting school on August 6 and we live in the south. You know what that means don't you? It's going to be a hot football season.
Photo Credit: www.etsy.com
I could put a million different football shirts on here, but I'll just do a couple. This long-sleeved one is cute and you can get it in many different colors.
Photo Credit: www.etsy.com
Photo Credit: www.etsy.com
Photo Credit: www.etsy.com