If you have a child in your house, then you most likely have Legos. If your child is not old enough, don't worry, it's coming!! It can be a huge challenge, but this is a great way to organizing legos so you can find everything you're looking for. It's really the best way to organize legos that I've found and it actually works.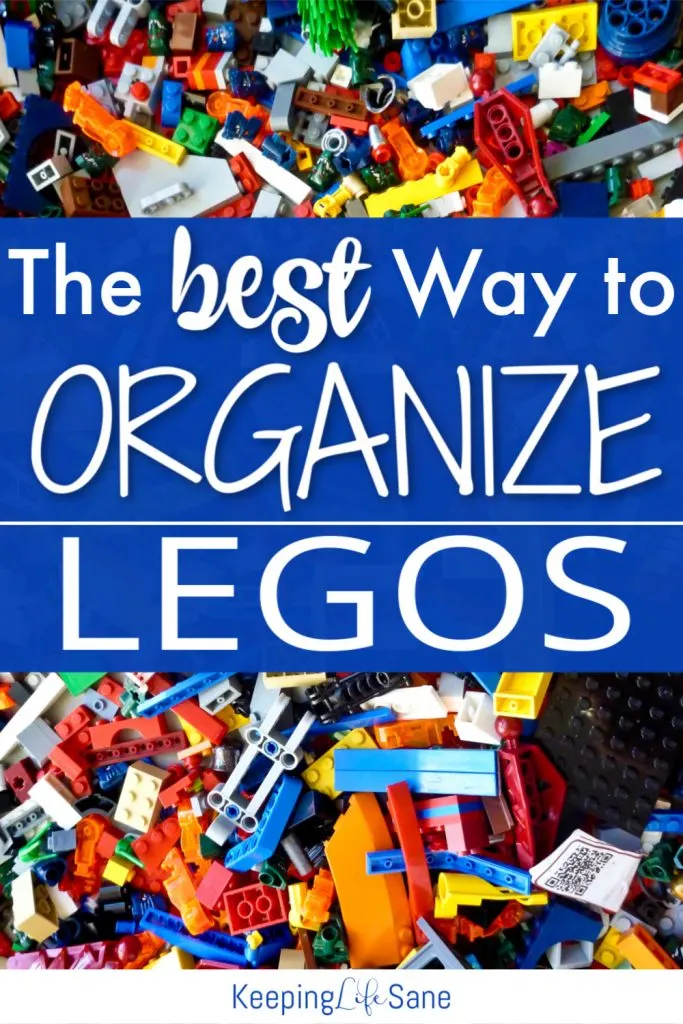 This post contains affiliate links. Check out my privacy policy for more info.
The Best Way to Organize Legos
First, I want to buy some Legos, but my child is to young to actually do any of the sets. So I just buy the standard box with a variety of pieces. I think to myself, "That's a lot of Legos. I shouldn't have to buy anymore for a long time.". Wrong! Next, my kid has gotten the hang of it.
I buy a couple of little sets, a police car and fire truck, he builds it and there are a few odds and ends remaining. I think that they will play with this for a long time. Wrong again! It's snowballing. Now I've got 2 dozen sets and extra pieces everywhere.
Lastly, I go to a consignment sale and find a huge bag for $8.00! That's right, $8.00! It's so cheap, I know. I had to get it because I know I will never find Legos that cheap, ever!
Organizing Legos
I tried organizing the Lego mess in our house several different times. I could never find anything that worked, until now. We've had our Legos organized for the past year, the same way, and it's worked! Update: I wrote this over 4 years ago and we still use this method!
I found some bins, like these, on sale and separated all the Legos by color. I bought seven of them. Next, I pulled out the wheels and put them all together in an old Clorox Wipes container that I washed out. Then, I got my dishwashing detergent tub and put all the people parts in it. Finally, I just got a Rubbermaid container from my kitchen and put all the other, random tiny parts in it. We keep all these in one place and I call it Lego Central.
I know, I'm crazy. All Legos must remain in Lego Central. They are not allowed to leave that area under any circumstance. Seinfeld had the Soup Nazi, my son calls me the Lego Nazi. But if you have ever stumbled out of bed at 3am to let the dog out and stepped on one of those little pieces, you definitely understand my obsession.
This system has worked for us. Now when my son is ready to build a set, it's easy to find the pieces he's looking for. This has saved him (really me) a lot of time. So, if you have a Lego disaster in your house, try a little organization to keep you from going crazy…and possibly a trip to the ER to have a Lego removed from your heel.
Make sure you are keeping all your instructions to all your set. I bought a 3 ring binder with the clear page protectors. I keep all the booklets in there so they're easy to find. We can pull out what we want to work on and lay out all the containers and it's easy to built your sets over and over again.
You may also like these about LEGO too!