These are the best cheesy sausage balls you'll have this year. They are so easy to make. You have to try them!
This post contains affiliate links and I will be compensated if you make a purchase after clicking on my links. As an Amazon Associate, I earn from qualifying purchases. Check out my privacy policy for more info.
I love easy sausage balls and cheese! These are great for any time of the year, but I always seem to make them around the holidays. The secret ingredient for these is cheese whiz. I think the official spelling is Cheez Whiz!
They are perfect for a potluck, Thanksgiving, and Christmas and to grab and go food for grazers. You get two or three and then you have to go back for more.
Extra Cheesy Cheese Whiz Sausage Balls
If you say anything is cheesy, then it's a winner in my house. I made these a few years ago for a party and my kids ate half for a snack. I had never thought of giving it to them for a snack or even breakfast, but it's the perfect food. It's full of protein to keep them full longer.
I know your kids will love to help make these. They are super easy to make. My mouth is watering while I'm typing this and I just added the ingredients to my grocery list again!
Don't forget to double the recipe and freeze half for later. So easy and you can be done and the kitchen cleaned in under an hour!
The good thing about this recipe is that you don't have to have a baking mix, like Bisquick. These are sausage balls made with flour. I never seem to have any in the house so so special ingredients that you'll never use again.
I'm allergic to eggs and to make pancakes with many of those mixes you have to use eggs so I don't buy those and make my pancakes from scratch. Flour is perfect in this recipe because everyone has flour!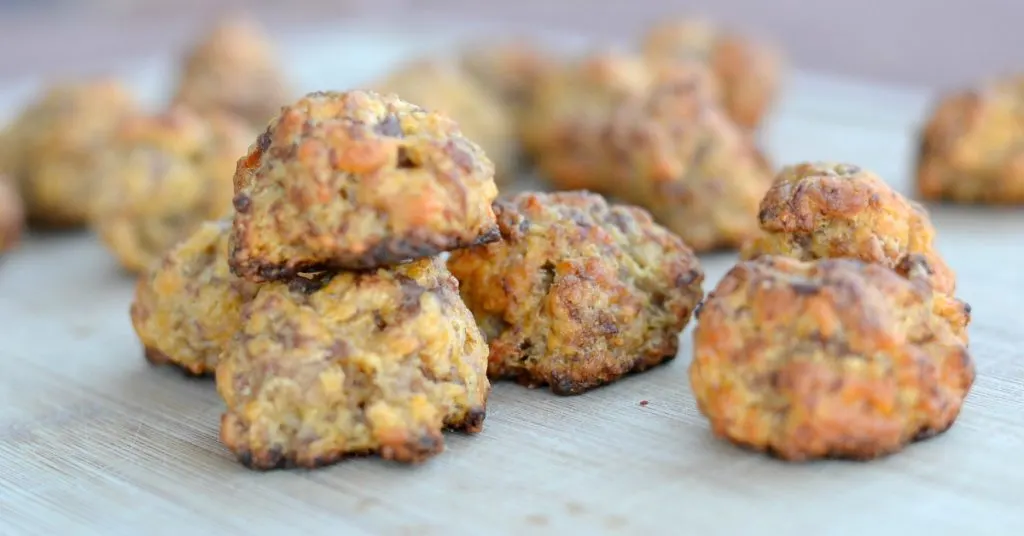 Kitchen Tools to make Easy Sausage Balls
Stainless Steel Mixing Bowls– I LOVE stainless steel bowls. They are great in the kitchen for all kinds of cooking and baking. They hold up well and don't need to replace often.
Baking Sheet– I've had these baking sheets forever and love that they are bigger. I can usually get 16 cookies on a sheet when I'm baking.
Measuring Cups– These are great measuring cups. They're hard to break and mess up. They last forever.
Oven Mits– I put these on here because I literally just bought some new ones. Mine were so old and disgusting I just threw them in the trash and got myself several new ones.
Cheese grater– I love this box grater because there are several different blades you can use so it's perfect for all kinds of recipes and perfect for your shredded sharp cheddar in this recipe.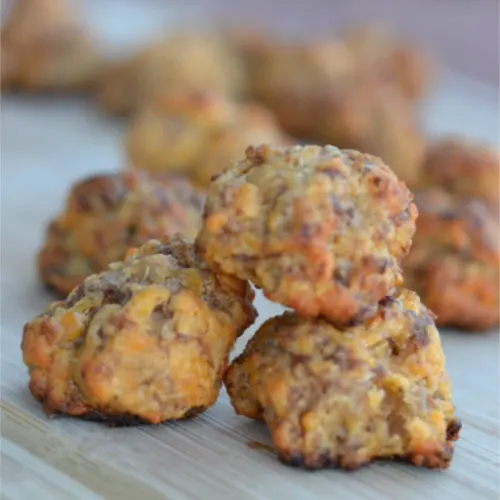 Ingredients for sausage balls with cheese
Ground pork sausage– Your favorite ground breakfast sausage will work fine. I usually buy Jimmy Dean sausage mild or hot, but that's my personal preference.
Shredded cheese– I use sharp cheddar cheese or extra sharp cheddar in this recipe because it's got a stong flavor.
Cheese Whiz– My grocery store carries this in the refrigerated section near the Velvetta, but I know that some stores carry this on the regular shelves.
All Purpose Flour
Baking powder
Salt
How to make sausage balls recipe
Step 1
Put sausage, shredded cheddar cheese, Cheez Whiz, flour, baking powder and salt in a large bowl and mix thoroughly using finger and kneading.
Step 2
Roll the sausage mixture into 1 1/2″ balls and place on a cookie sheet. You don't need to spray your baking sheet with a nonstick spray because the sausage has grease and they won't stick to the pan.
Step 3
Bake for 20-25 minutes or until sausage is cooked through.
More appetizer recipes you may like that are also CHEESY!
Reminder: It would be GREAT if you could leave any feedback in the comment section and give me 5 stars. I love it when people rate my recipes for other readers to help when they are looking for something new to make.
Extra Cheesy Sausage Balls
These are the best cheesy sausage balls you'll have this year. They are so easy to make. You have to try them!
Ingredients
1

lb

ground pork sausage

1

cup

shredded cheese- I used sharp cheddar.

8

oz

Cheese Whiz

1 1/4

cups

flour

1 1/2

teaspoons

baking powder

1/2

teaspoon

salt
Instructions
Preheat the oven to 400F.

Put all the ingredients in a mixing bowl and mix thoroughly using fingers and kneading.

Roll into 1 1/2" balls and place on baking sheet.

Bake for 20-25 minutes until sausage is cooked through.

ENJOY!