Toasted coconut is so delicious and you can add it to so many things. Here are easy instructions on how to toast coconut. It only takes 10 minutes.
This post contains affiliate links and I will be compensated if you make a purchase after clicking on my links. As an Amazon Associate, I earn from qualifying purchases. Check out my privacy policy for more info.
I love coconut and it's so good toasted. I was talking to a friend the other day and she hadn't even thought of toasting it. She had no idea how to do it. I told her and she said it would be a perfect post for the blog so here I am.
It's great to add to cookies, oatmeal, trail mix, and protein balls. You can buy toasted coconut flakes, but why would you when it's so easy to make. Scroll down to get the instructions on how to toast coconut.
How to Toast Coconut
Toasting coconut is so easy and you can use it in so many ways. I love it in my morning oatmeal, on top of cakes and pies, and even in dinner dishes. I just buy shredded coconut from the baking section in the grocery store. It is sweetened and unsweet. It's your choice and you can buy whichever you prefer, but I normally buy the sweetened.
There are different ways to toast coconut, but my favorite way is on the stovetop. You can bake it in the oven on a large baking sheet, but I'm always afraid it will burn so I like doing it on the stove so I can keep a close eye on it.
Step 1
Spread coconut out in a thin layer in a skillet and cook on low heat. On my stove that was set on 4 out of 10.
Step 2
Pour in your coconut. Now you need to just stir, continuously. Do not let it sit! It will start to burn very quickly. You need to keep stirring.
It starts by letting off a stronger smell and will gradually start to turn brown up. You'll also start to hear the coconut getting crunchier. Here are my favorite wooden spoons and pan!
Step 3
The coconut will take about 8-10 minutes and will become lightly browned.
I was nervous to take this picture because I didn't want it to burn!!
Step 4
Let cool completely and store toasted coconut in an airtight container.
You can just keep in an airtight container and you'll notice that you can add it to a lot of things you are already eating. Enjoy!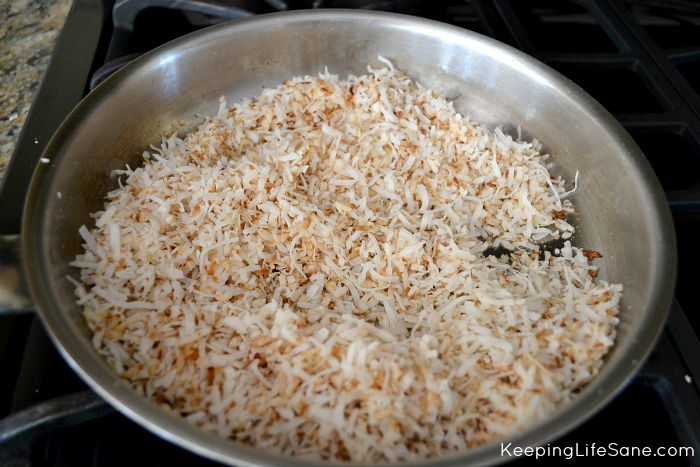 Recipes that have toasted coconut