30 Minute Mexican Sausage Casserole
Ok guys, school is starting in a couple of weeks and we're already so busy!  My two boys started football at the beginning of August so our nights of having dinner together are over.  I like easy meals that don't take long to cook because they are STARVING when they get home (me too)!  I love this 30 Minute Mexican Sausage Casserole so I'm adding it back in my menu this month.  It's perfect because it takes no time at all and it uses ingredients I usually already have in my kitchen.  I can have it on the table and my family eating in less than 30 minutes.  My family loves Mexican food so it's a plus.

30 Minute Mexican Sausage Casserole
My family was gone for most of July and it was pretty hectic.  We went to Cooperstown, NY for a baseball tournament, then vacation, then one son went to camp and then a long weekend in Boston.  We have been eating out a lot and feel really blah!  My husband and I have put us on a 30 day no eating out challenge to get back to eating better and saving some money.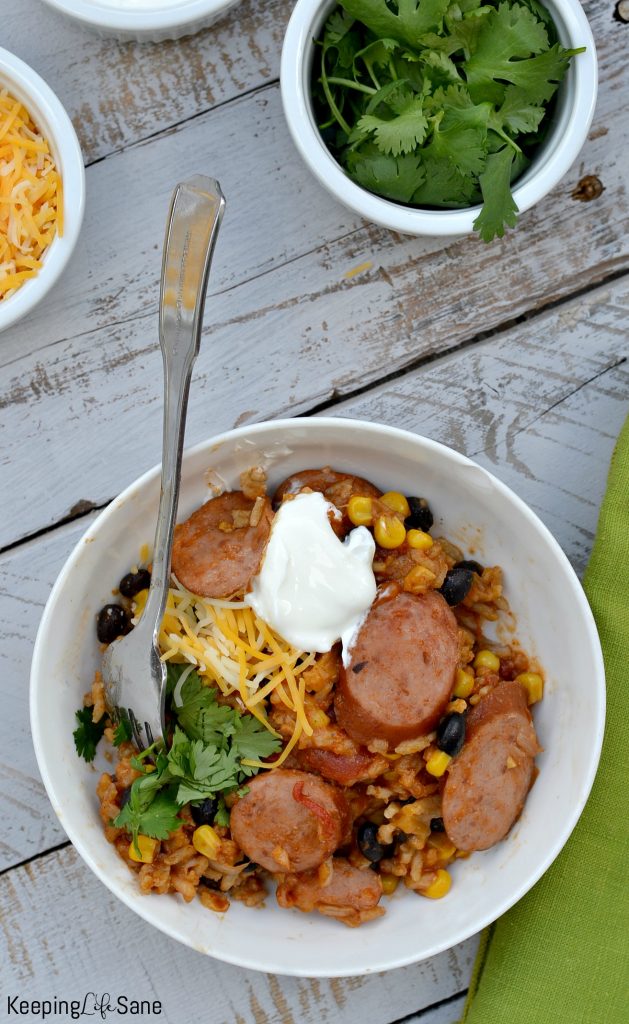 One of my favorite parts about this Mexican Casserole is that it includes ingredients that I (and probably you) already have in the pantry.  My secret ingredient is Eckrich Smoked Sausage.  It's already cooked so you can just throw it in. Eckrich is made with a signature blend of spices for a rich, flavorful taste. It's so versatile I can use it for any meal occasion. I usually keep a few packages in my freezer. It's nice to have them on hand when I need a quick meal, so I can run my kids to practice and help with homework.  You can have it with breakfast, lunch, or dinner!

30 Minute Mexican Sausage Casserole
Ingredients
14 oz package Eckrich Smoked Sausage, sliced (You can find it in the deli section of your grocery store.)
2 tablespoons olive oil
1/2 onion, diced (about 1/2-3/4 cup)
2 cloves garlic, minced
1 packet taco seasoning or homemade
15 oz can corn, drained
2 cups beef broth
1 cup rice
15 oz can black beans, rinsed and drained
15 oz can diced tomatoes, undrained
1 cup taco shredded cheese
Toppings
Cilantro
Cheese
Green onions
Sour cream
Directions
Sauté sliced sausage, onion and garlic in olive oil for 3-5 minutes until onions are softened.
Add corn, beans, tomatoes, rice, beef broth and taco seasoning to pot and bring to a boil.  Simmer covered for 15-20 minutes or until liquid has dissolved.
If you have extra liquid, you can take off the lid and cook until it thickens up.
Stir in 1 cup shredded cheese.
Serve and add toppings.
ENJOY!
I hope you enjoy this meal as much as my family does.  It's great to be able to make a meal without standing over the stove for an hour and have it turn out delicious and flavorful!
For more info about Eckrich Smoked Sausage, as well as quick and easy recipes please visit www.eckrich.com.
This conversation is sponsored by Eckrich Smoked Sausage.  All opinions are mine alone.