It's fall and time to start eating pumpkin food! You won't believe how delicious these eggless pumpkin muffins are and how easy they are to make.
This post contains affiliate links and I will be compensated if you make a purchase after clicking on my links. As an Amazon Associate, I earn from qualifying purchases. Check out my privacy policy for more info.
When September rolls around, I'm ready for fall! I love fall flavors. I add pumpkin spice creamer to my coffee and start making the easiest (and eggless) chocolate chip pumpkin cookies.
This pumpkin muffin recipe tastes fantastic and is light and moist. It's the perfect pumpkin spice flavored dessert.
I'm allergic to eggs and I'm always working on new recipes that both my family and I can enjoy. My goal is for them to say it tastes like it has eggs or that it's just as good. This recipe's a hit. My daughter even warned me to be careful and to make sure I could eat them first! That means this recipe is a winner.
Eggless Pumpkin Muffins
These can be made without the crumb topping too. The muffin has a great taste, but the topping adds just a touch more sweetness and a little crunch.
Ingredients for eggless pumpkin muffins
Cake Mix– I'm using Duncan Hines yellow boxed cake mix.
Pumpin puree– Make sure not to get the pumpkin pie mix, just the plain pumpkin puree.
Cinnamon and pumpkin pie spice– This is what will give your muffins that great fall flavor.
Applesauce– I use applesauce as a binder to help hold the muffin together.
Ingredients for crumb topping.
all purpose flour
brown sugar
sugar
butter- If you are wanting vegan pumpkin muffins, just switch this out to Earth Balance. You'll want this melted, not room temperature.
cinnamon
How to Make Eggless Pumpkin Muffins
Step 1
Preheat the oven to 350F. Make the crumble top by adding sugars, butter and cinnamon to a bowl and stir well. Slowly add in flour while stirring. Set aside.
Step 2
In another bowl, add in cake mix, pumpkin puree, pumpkin pie spice, cinnamon and applesauce and mix with an electric mixer until combined. I've tried doing this with a fork and it doesn't work well. Get your mixer out!
Step 3
You'll want to fill the muffin tin halfway and add crumb topping to each muffin. It's done when a toothpick inserted comes out clean, about 20 minutes. You can make these into mini muffins too, just reduce your cook time.
Tools to make pumpkin muffins.
Silicone cupcake liners– These are my very favorite thing in the world when it comes to baking. I've had trouble with eggless recipes sticking to paper liners. Silicone liners pull off your cupcake or muffin so easily and nothing sticks! These are a must-have and you can wash them in the dishwasher!
Electric mixer– This is the exact one (mine was white though) I received as a wedding gift almost 20 years ago and it still works great! I highly recommend it.
Muffin Pan– This is the one I have, I think it's a wedding gift too!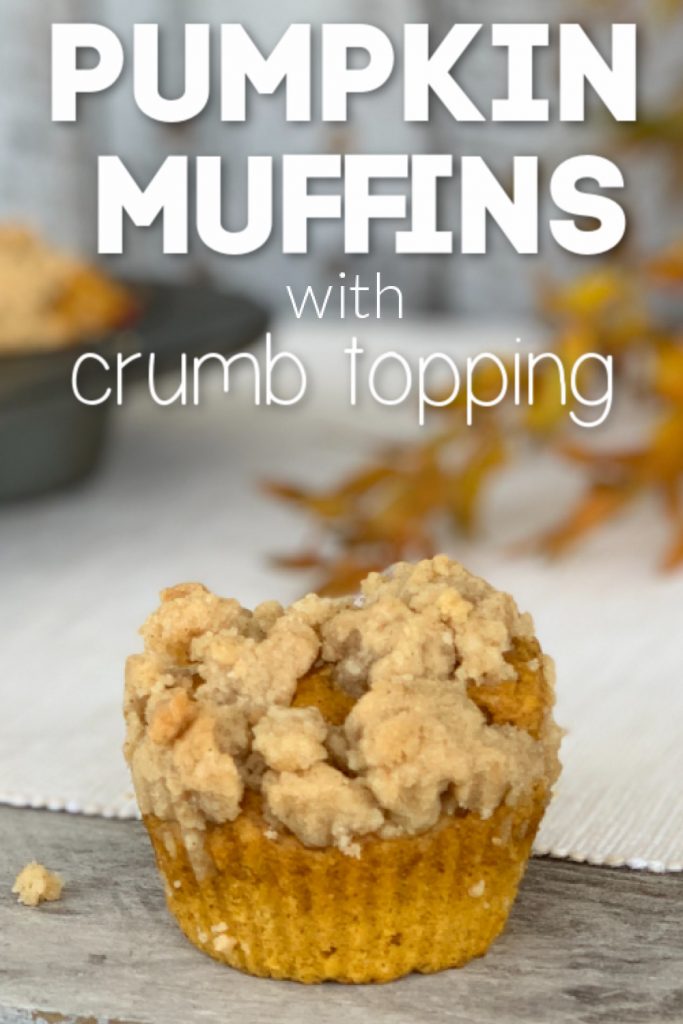 Where to find more eggless dessert recipes
If you are coming to this recipe because it's egg free, then you're in luck! I have an egg free desserts Pinterest board. If you like searching for things on Pinterest, make sure to follow that board to get all kinds of dessert recipes. I have over 1000 items pinned now.
I also started and an Egg Free Dessert Facebook page. If you are more of a Facebook person, make sure to like and follow it. I started it about a few years ago and there are already over 1700 followers.
More fall and muffin recipes you'll like.
Eggless Pumpkin Muffins with Crumb Topping
It's fall and time to start eating pumpkin food! You won't believe how delicious these eggless pumpkin muffins are and how easy they are to make.
Ingredients
1

can pumpkin

1

yellow cake mix

2

teaspoons

pumpkin pie spice

1

teaspoon

cinnamon

2

tablespoons

applesauce
Crumb Topping
⅓

cup

sugar

⅓

cup

packed brown sugar

½

teaspoon

cinnamon

butter

melted

1 1/4

cups

flour
Instructions
In a small bowl, add the crumb topping ingredients, sugar, brown sugar, cinnamon and melted butter. Sitr with a fork. Slowly add in flour. The mixture will be crumbles.

In a second bowl, add cake mix to a medium bowl and add pumpkin puree, cinnamon, pumpkin pie spice and applesauce. Mix using an electric mixer.

Fill muffin pan 1/2 to 3/4 full and add 1 tablespoon of crumb topping. Bake for 18-20 minutes or until done. Test using a toothpick, if it comes out clean, it's done.